With early access to the Green Star Buildings rating tool, Stockland's team road tested the credits and is now taking the lead in the pursuit of net zero.
Stockland is delivering M_Park, a $450 million campus style redevelopment at the corner of Khartoum and Talavera Roads, in the heart of the Macquarie Park commercial precinct.
M_Park will integrate state-of-the-art office and retail spaces within a pedestrian-friendly, public open park; providing a destination that will be inviting for both workers and the wider community.
M_Park Building A is the first stage of a commercial redevelopment of the three-hectare site just 12-kilometres north-west of Sydney's CBD.
Building A will boast innovative smart technology and high-end health and wellbeing features, but it is the project's net zero carbon commitment that is attracting most attention.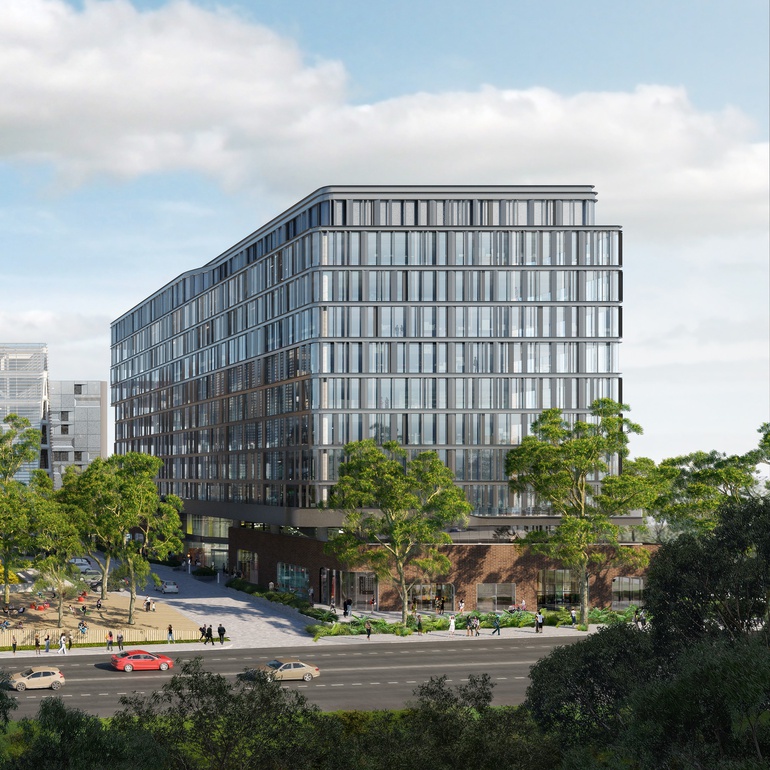 Building A Fast facts:
nestled in a 55,000 sqm low-carbon precinct boasting commercial, co-working, convenience retail, childcare and casual dining
a new nine level A-grade commercial office building with an NLA of 16, 350 sqm
average floor plates of 1,750 sqm
three levels of basement carparking, loading and storage areas
ground floor retail and entry foyer space
5 Star Green Star minimum commitment (Design and As Built v1.3)
5 star NABERS Energy Commitment Agreement
high efficiency, fully electric and powered by renewables
net zero carbon in operation.
Chasing new Green Star credits
Stockland's National Sustainability Manager for Commercial Property, Greg Johnson, has been a member of the Green Star Technical Advisory Group for past three years, and challenged his team to take part in the Early Access Program for Green Star Buildings.
"It wasn't a hard sell. We saw the opportunity to show leadership, and to test the new credits at the earliest possible stage," Greg explains.
As a participant in the Green Star Early Access Program, we gained a rare opportunity to get a first glimpse of what the next generation of Green Star looks like on a live project.
Greg Johnson, National Sustainability Manager for Commercial Property, Stockland
"Given it was a staged campus development, we knew that the decisions we made for Building A would be different for the later stages so we chose to work with the new rating tool, test the new credits and learn lessons that we could apply to later stages."
Building A was already at the development application stage when Stockland joined the Early Access Program. After close and continued engagement between Stockland and the GBCA, and several workshops later, a range of draft credits were earmarked, including responsible procurement, social construction and placemaking.
"While we were essentially working with a framework of headings without the strict compliance criteria being developed at that stage, we identified several opportunities we could pursue – and the biggest of those was net zero carbon."
Net zero building has been coming for a long time, and it's exciting – but it will be a big leap for the industry.
Greg Johnson, National Sustainability Manager for Commercial Property, Stockland
Putting a price on net zero
Stockland is a signatory of the WorldGBC's Net Zero Buildings Commitment, and chasing net zero carbon on M_Park aligns with Stockland's ambitious sustainability strategy.
Understanding the new Green Star requirements for net zero – "fully-electric, fossil fuel free and 100% powered by renewables," as Greg says – was a "a major early insight which enabled us to put a price on net zero and pursue a business case".
"When we looked at the design brief for Building A, and considered the future requirements of Green Star, it made no sense to deliver a building into the market in 2022 that was not at least net zero ready. It made even less sense to invest in a building with gas infrastructure that may be redundant in five or 10 years' time and then would require a retrofit to meet future target net zero expectations."
Stockland's business case for net zero determined that an additional capital commitment was required to deliver a fully electric building that did not impact the project's feasibility. The investment includes electric heating and hot water and a 130kW rooftop solar system. Any additional emissions will be offset by GreenPower.
Pursuing net zero "is exciting for the project and will future proof Building A while raising the bar for our future projects," Greg adds.
Green Star: A guiding compass
Stockland is now working with the successful tenderer to meet the Green Star Buildings credit requirements.
"It's a work in progress; meeting the criteria for credits under the new rating tool will be a big leap for us," Greg says.
Lessons learned on Building A will be applied to the next stages of the 55,000 sqm precinct.
Looking further ahead, Greg says Green Star's ever-increasing scope – which now focuses on the "social dimension" of sustainability from placemaking to Indigenous inclusion, responsible procurement and social construction – engages new professions and skillsets, and will encourage more Australians to rethink sustainability in the built environment.
"Green Star is not about why you build – it is how you build to achieve your sustainability commitments. Green Star Buildings is the compass that helps Stockland deliver 'a better way to live'."
Masterplan render disclaimer: Artist impression only. Designs for Buildings C&D and the public domain have not yet been finalised and are subject to change at any time.
Building A render disclaimer: Artist impression only, subject to change.
Please note that the above information was correct at the time of publication. Details about the project may have changed since publication. For further information please contact the Green Star team.