Cooling off at the local swimming pool is hardwired into the childhood memories of many Australians. So, when Darebin City Council decided it was time to update the much-loved Northcote Aquatic and Recreation Centre (NARC), the project team turned to Green Star Buildings to guide the design of a new sustainable community asset.
"Darebin residents have a strong commitment to the environment. Being part of the Green Star Early Access Program strengthens that commitment."
Sue Wilkinson, CEO, Darebin City Council
After more than half a century of service to the community, the Northcote Aquatic and Recreation Centre is reaching the end of its life.
Maintenance costs were expected to soar to more than $3 million a year and the energy-intensive centre did not align with council's ambitious sustainability strategy.
In late 2016, Darebin City Council became the first government of any kind in the world to declare a climate emergency and has since set a long-term vision for net zero emissions.
But aquatic centres are notoriously energy and water guzzlers; they operate for long hours and must maintain constant pool temperatures. This comes at a significant cost to the community and to the environment.
So, council embarked on plans to demolish the old centre and design a new $63.5 million community asset with a 6 Star Green Star rating under the new Green Star Buildings rating tool.
Electric dreams
Reimagining NARC as an all-electric aquatic centre has become a symbol of council's net zero commitment, as the project promises to be the first all-electric aquatic centre in Victoria.
NARC will boast a new outdoor 50 metre pool, an indoor lane pool, warm water pool, leisure pool, splash pad and learn to swim pool. Fitness and wellness facilities will include multi-purpose spaces for group fitness and yoga, a gym and consulting rooms for allied health professionals.
The challenge for the design team was to "balance costs while keeping the electric dream alive," explains Janine Parker, Darebin City Council's Environmentally Sustainable Developments Officer.
The project team – which includes architects at Warren and Mahoney, ESD engineers from Arup and services engineers from Umow Lai and Crackerjack – crunched the numbers to determine the costs for traditional gas, a hybrid option of electric with gas back up, and all-electric.
"Although the capital cost for all-electric now is higher, over time the reduction in energy bills and carbon emissions will make the extra cost worth it," Janine says.
Northcote Aquatic and Recreation Centre fast facts:
targeting 6 Star Green Star
2023 completion date
new outdoor 50 metre pool, an indoor 25 pool, warm water pool, leisure pool, splash pad and learn to swim pool along with fitness and wellness facilities
project team including Darebin City Council, Warren and Mahoney (architect), Arup (ESD engineer), Umow Lai and Crackerjack (services engineers), Phillip Chun (building surveyor), Currie and Brown (quantity surveyor), TTW Engineers (Taylor Thomson Whitting), Scientific Fire Systems, Marshall Day Acoustics, Ratio, Food Consulting Australia, Greenaway Architects and Morris Goding Access Consulting.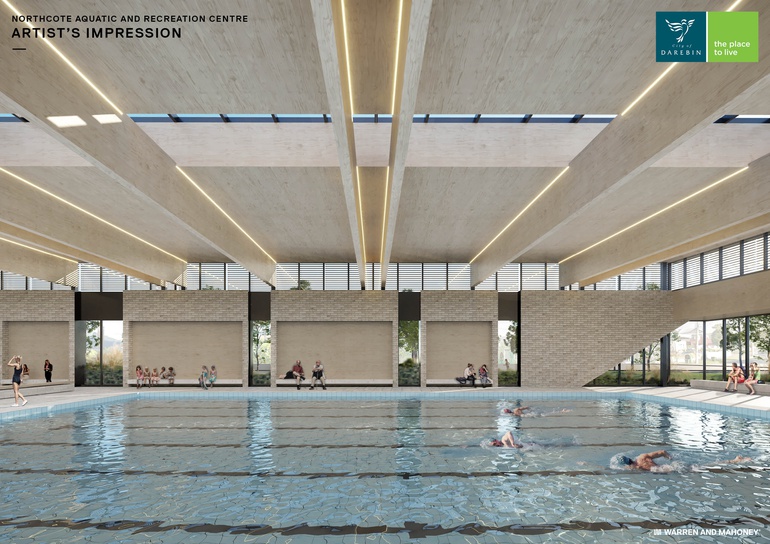 With the help of Green Star, we are raising our standards, lifting our skills and delivering sustainable outcomes for the community.
Sue Wilkinson, CEO, Darebin City Council
Green Star goals
In 2016, council established a new ESD policy for council buildings which mandates Green Star certification for developments of more than $10 million.
"Sustainability is one of Council's highest aims, so pursuing Green Star certification is vital to show our commitment to Darebin and the wider community," Janine explains.
A challenging project like NARC was a great litmus test of the new Green Star Buildings rating tool. Solving the sustainability equation on aquatic centres poses big challenges, "but this made NARC an ideal project to test the new credits. If the credits work for a pool, they will work on other building types".
The project team is pursuing several new credits, including upfront carbon emissions. Embodied carbon contributes around 11% of global carbon emissions, and Arup is currently undertaking a lifecycle assessment to quantify the NARC's whole-of-life carbon.
Materials have been selected to minimise the carbon footprint of the construction and increase durability. For example, the light-weight timber structure reduces embodied carbon while offering a natural aesthetic.
"As buildings become more energy efficient operationally, the embodied energy of the construction materials becomes a much larger piece of the carbon footprint. This whole-of-life quantification is incredibly important to truly assess a building's impact on the climate," Janine explains.
A place for people
A pool is not just a location to swim laps. It is also a social space and a gathering place, which is why community consultation is so important.
The two rounds of consultation so far have ensured the design reflects the community's vision. For instance, the grassy hill surrounding the outdoor pool, affectionally known as Northcote beach, was a key feature the community wanted to keep, so careful landscaping will honour this cherished characteristic.
Darebin City Council CEO Sue Wilkinson says the new Nature and People categories also "align perfectly with the council's goals and aspirations" for NARC.
"We are using Green Star Buildings to guide decisions on biodiversity, Aboriginal inclusion and social procurement." The NARC project team is talking to the local Aboriginal and Torres Strait Islander community about the design, particularly in the landscaping. The centre will incorporate universal design principles, ensuring it is welcoming and inclusive for everyone.
"The Green Star process has helped everyone in our organisation to think about the long-term benefits, not just the initial cost," Sue says.
"With the help of Green Star, we are raising our standards, lifting our skills and delivering sustainable outcomes for the community."