Location is an essential ingredient of successful logistics facilities; another is sustainability. Goodman's 1A Oakdale in Sydney boasts both.
As e-commerce grows exponentially and with demand for same-day delivery on the rise, the race to reach consumers is on. Logistics facilities located near major motorways deliver to more destinations – and they have a smaller carbon footprint too.
Situated at the heart of Sydney's growing logistics hub at Kemps Creek, Goodman's 1A Oakdale exemplifies excellent connectivity, with nearby motorways offering convenient access to metropolitan areas.
1A Oakdale was also the first Goodman property to achieve a 5 Star Green Star rating – an achievement that aligns with an ambitious 2030 sustainability strategy.
The building boasts a 100-kilowatt solar array, a cool roof that reflects more than three quarters of the sun's heat, and an industrial-scale rainwater harvesting system.
Using Green Star helped Goodman deliver a sustainable and high-quality development, and set a clear process for consultants and contractors, says Goodman's Assistant Project Manager, Camila Medina.
Working with Green Star also challenged Goodman's development team to trial and test new construction methods and materials, and to flex its innovation muscle.
"Our team was open to trialling as many ideas as we could, while carefully managing the risks, and we were excited to see that lessons we learnt have informed the development of the new Green Star Buildings rating tool."
1A Oakdale South fast facts:
a brand new 12,395 sqm warehouse and office
Goodman's first 5 Star Green Star rating achieved in August 2019
direct access to Sydney's M7 and M4 motorways
tenanted by B Dynamic Logistics, a technology-driven, innovative logistic solutions company.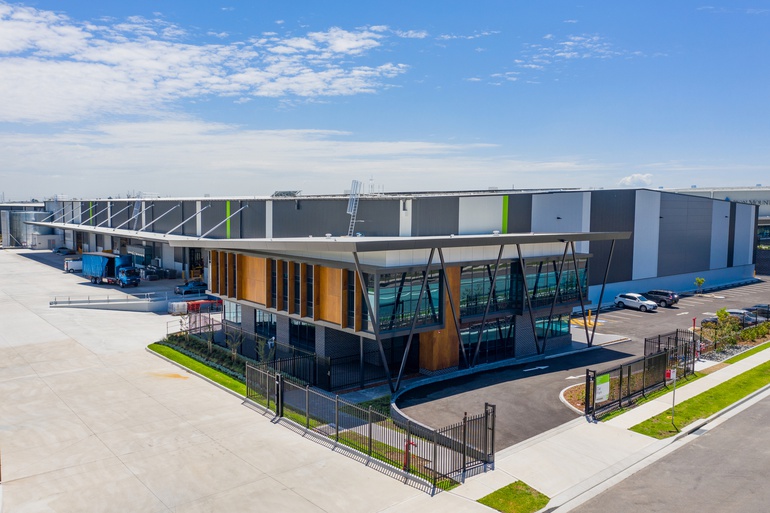 Sustainability step-change
As a participant in the Green Star Early Access Program, Goodman's team sat down with the GBCA and consultants JLL during a series of workshops to provide credit-by-credit feedback on Green Star Buildings.
"We found the process of achieving a Green Star rating validated our sustainability strategy, and that our standard brief was ticking a lot of Green Star's boxes," Camila says.
Goodman's global development specifications include entrenched design initiatives such as solar PV, electric vehicle charging points, LED lighting and drought tolerant landscaping.
Delivering on these sustainability specifications drove Goodman – which has more than $50 billion in assets under management – to the top of the global GRESB league table for industrial developers in 2019.
But at 1A Oakdale, the team went several steps further.
"We completed a heat burden study to understand what the customer comfort levels would be on very hot, humid or cold days. The information from this report now informs our other developments," Camila explains.
The 100-kilowatt solar array on 1A Oakdale has inspired another step change in sustainability.
The sheer size of most industrial facilities mean they play a big role in boosting Australia's rooftop solar PV capacity. Goodman has more than 50 megawatts of solar installed across its assets, and "our vision is now to install 250kw of solar PV for every 10,000 sqm of new space – which is huge," Camila says.
Goodman's 2030 Sustainability Strategy outlines a commitment to hit carbon neutrality targets and to power its buildings using 100% renewable energy.
"It's the way of the future. As automation accelerates, our industrial customers will require a lot more power – and they will want reliable, environmentally-friendly sources of energy as part of their base building."
Looking beyond location, location, location
Camila says Goodman's environmental stewardship starts at the site selection stage.
The new Nature category in Green Star Buildings includes credits that address how the project enhances biodiversity and connects with its natural surroundings.
"Large industrial facilities require big pieces of land – so we must be careful the land we acquire does not put biodiversity or heritage in danger. We have a specific team in Goodman that is responsible for investigating this and making sure our projects meet all of these requirements."
1A Oakdale overlooks a large strip of protected land that enhances the local biodiversity, boasts "pristine landscaping and looks beautiful".
Location is the secret to a successful logistics hub, and that means optimising transport networks to and from the site.
During the development of 1A Oakdale, Goodman teamed up with JLL to create an industry-first Geographical Information System model. This calculated how the project's strategic siting would reduce the kilometres travelled and subsequent carbon footprint.
"The majority of Goodman facilities are at strategic points between motorways. This means easy access from a logistics point of view, and the shortest route also has environmental benefits through carbon savings," Camila explains.
We found the process of achieving a Green Star rating validated our sustainability strategy, and that our standard brief was ticking a lot of Green Star's boxes.
Camila Medina, Assistant Project Manager, Goodman
Customer demand drives growth in Green Star
While Goodman's sustainability strategy is in line with 5 Star Green Star benchmarks, its uptake of Green Star ratings is driven by customers, Camila says.
"When our customers are looking for new facilities, one of the first questions they ask is: Is it a Green Star building?".
The GBCA's report Green Star in focus: The case for sustainable industrial buildings, outlines why tenant customers are demanding Green Star-rated industrial assets. Chief among the benefits are cost savings, employee retention and investment attraction.
Goodman is also retrospectively seeking certification for existing facilities, "some that are five years old because our customers are asking for it," Camila adds.
"Goodman is always looking to lift our sustainability standards, because it's what our customers want and also what we believe is the right thing to do."
What is Camila's message to other developers in the industrial sector?
"If you don't have a sustainability focus, it's more than time to start – and Green Star is the best rating tool to help you."
Please note that the above information was correct at the time of publication. Details about the project may have changed since publication. For further information please contact the Green Star team.