Parramatta Square is one of Australia's largest commercial precincts, and a 5 Star Green Star rated community. The precinct integrates four premium A-grade commercial towers with 240,000 square metres of office and retail wrapped around an expansive public domain. The vision was a clear one; create a welcoming space for the community to gather, and for people to discover, connect, and find inspiration in the Parramatta community.
Sustainability and environmental performance has been at the helm of the precincts design and building process, considered by the team to be not only a responsibility, but a chance to show the positive impacts that can be made when you choose to act for a greener, healthier and more resilient built environment.
Adopting Green Star tools
Adopting the Green Star Communities rating tool steered the sustainable development of the Parramatta precinct, facilitating collaboration across multiple organisations and landholders under the umbrella of the Parramatta Square Alliance, tasked with a charter to develop a new beating heart of the CBD.
The precinct benefits the businesses and 24,000 operational workers that work within Parramatta Square and is freely accessible for the enjoyment of the wider Parramatta community. The Green Star Communities rating recognises best practice strategy formulation, engagement, and delivery of sustainability initiatives, including:
Implementation of the local government area's only public place recycling scheme
Collaboration between Walker and the City of Parramatta to implement a formulated strategy that appropriately engages on a defined community vision, including the provision of public space and facilities for community use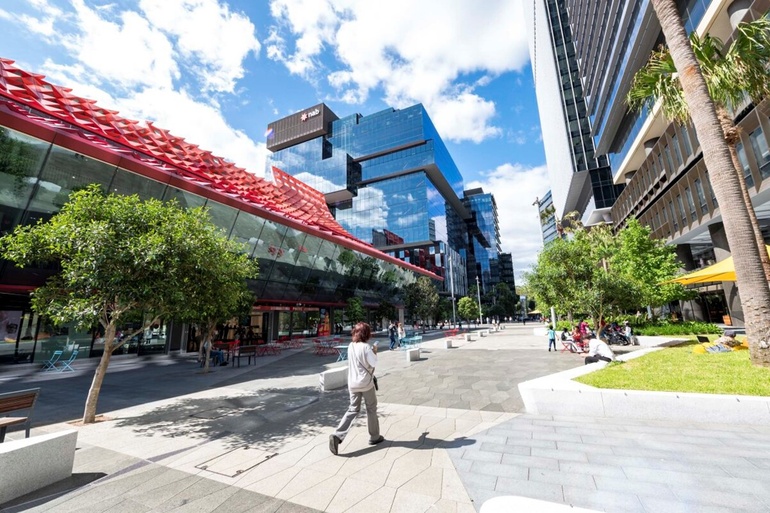 Initiatives to reduce waste and pollution, whilst promoting sustainable initiatives relating to active transport and disability access
High social sustainability supported by community use and facilities in PHIVE and educational opportunities at Western Sydney University
Working within the constraints of a large-scale project with a long delivery timeframe required a certain tenacity to achieve the rating.
"The biggest challenge was working through the requirements of the submission to see how they apply retrospectively to design decisions already implemented, whilst ensuring that new initiatives could still be enabled upon operation of the precinct," Mr Patfield explained.
"The biggest achievement has been the collaboration across organisations to achieve the 5 Star Green Star communities rating, that reflects the key sustainability features of the project."
Looking ahead the project team is following the ongoing development and refinement of the Green Star Communities tool and will review updates in consideration of continuing sustainability efforts to achieve a 6 Star rating.
Led by LCI Consultants, the 5 Star Green Star certification called for cooperation between the Alliance's diverse representatives from the City of Parramatta, Walker Corporation, Charter Hall, Western Sydney University, Sydney Water, AREF/JLL, NAB, the Museum of Applied Arts and Sciences, NSW Department of Industry and Environment (DPIE) and on behalf of NSW Department of Customer Service.