Ginninderry, which will one day span four suburbs across ACT and NSW, was among Australia's first 6 Star Green Star communities. Now, five years on, the masterplanned community has been recertified to a 6 star, world leading standard – gaining extra points for innovations worthy of applause.
By 2055, Ginninderry will be home to more than 30,000 people and the world will be a very different place to what it was when the project was first conceived in 2007.
But Jessica Stewart, Ginninderry's Sustainability Manager, says this 50-year horizon means her team can explore and extend best practice thinking over time.
"When we started the project, we did a lot of thinking and spent a lot of time talking to community groups, traditional landholders, scientists, researchers and even futurists to establish our vision. With each new neighbourhood, we look back and make sure we learn from our mistakes and look to the future for new innovations."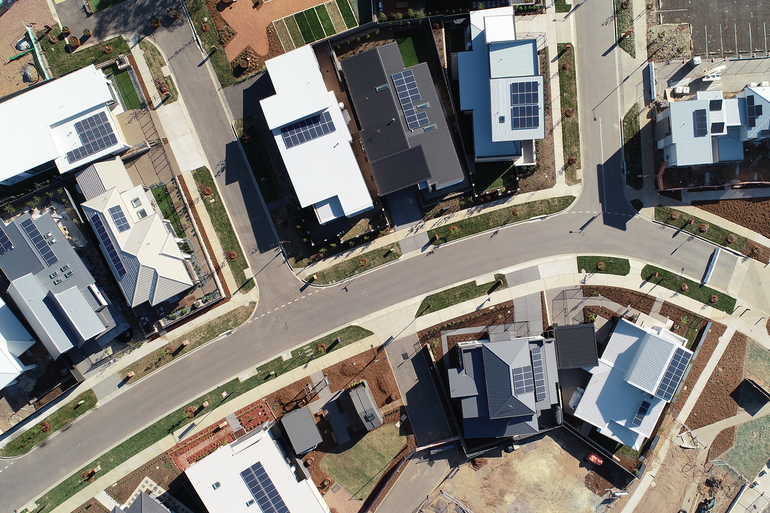 Ginninderry fast facts:
A joint venture between the ACT Government and Riverview Developments (ACT) Pty Ltd, the first sod was turned in 2018
11,500 dwellings will be constructed across four suburbs over 30-40 years; 6,500 of those in the ACT and 5,000 in NSW
A market centre, recreation, sports and community facilities and up to four schools are in the pipeline
Of the 1,600-hectare site, 596 hectares has been set aside as a conservation corridor along the Murrumbidgee River and Ginninderra Creek
Around 300 dwellings are being delivered each year
A 6 Star Green Star Communities rating representing 'world leadership'.
All-electric, powered by renewables
Ginninderry was the first suburb in Canberra designed without natural gas – a somewhat controversial move at the time which required considerable negotiation. "Natural gas was mandated in the Territory Plan. But we wanted to build a community that was future-proofed for rapid advances in technology and for a changing climate."
Homes in Ginninderry's first suburb of Strathnairn must install solar panels, solar or heat pump hot water, efficient reverse cycle air conditioning and an energy demand management system. The upfront cost of these energy-efficiency measures, while around $5,000 more than a typical ACT home with ducted gas and evaporative cooling, saves around $2,000 a year in energy costs.
"Ginninderry is creating a new model for community-scale energy systems," Jessica adds. "By working in partnership with our energy network providers, we hope that our community can store and generate renewable energy much more efficiently."
Ginninderry's first community-scale battery will be installed early 2022, providing grid support to the Evoenergy network that services Canberra. The battery will help control power flow in and out of the neighbourhood by storing and releasing power at certain times of the day and night.
The size of the battery is equivalent to two Tesla car batteries and is housed in a purpose-built enclosure designed to look like the adjacent padmounted substation. "We have allocated several specific areas for battery storage projects as part of our vision for Ginninderry's future energy system," Jessica explains.
"We have also allocated space for EV charging points at schools, commercial centres and neighbourhood parks. We've also made room for 5G along main boulevards to avoid blackspots for automated vehicles into the future."
Affordable homes in action
Ginninderry offers a range of housing options from traditional freestanding homes to the Flexi-living Series – the "missing middle" between an apartment and a traditional home. Flexi-living Homes are separately titled but offer the convenience and low-maintenance lifestyle of an apartment.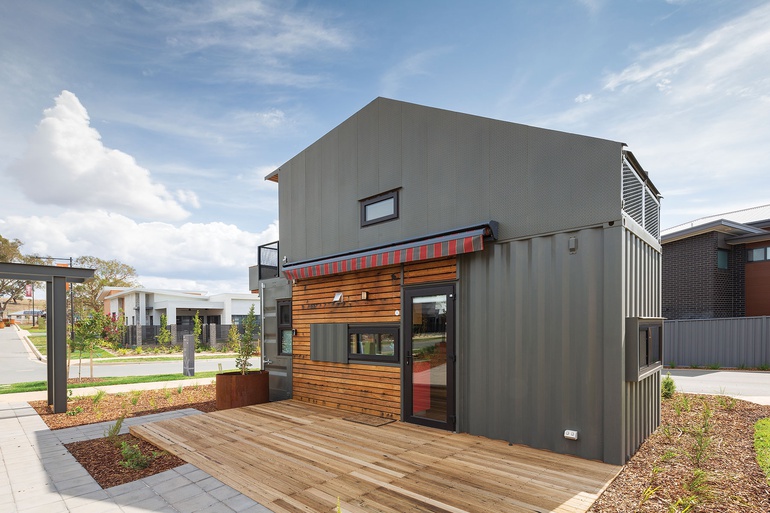 Ginninderry's team set clear criteria for the Flexi-living Series. These architecturally-designed, one, two- and three-bedroom homes are for people looking to enter or re-enter the property market. Purchasers must commit to living in the home for three years and have a household annual income of less than $120,000. After a price is agreed and contracts signed, the owners pay a 5% deposit – and not another cent until settlement.
Because the Ginninderry Joint Venture is the developer of the Flexi-living Series, each homes upholds Ginninderry's stringent design standards.
"There is significant demand in the market for affordable homes," Jessica notes. "We went to a ballot with 35 blocks and 1,100 people registered."
Of course, affordability isn't just about the price of the home. "We make sure each home is double glazed and well insulated, is powered with solar and boasts other energy efficiency features so people don't need to spend as much on energy bills."
It is humbling when people tell us they want to live here because it's an environmentally friendly place to live with sustainability at its core.
Jessica Stewart, Sustainability Manager, Ginninderry
An innovation precinct
Because Ginninderry's team cultivates a commitment to innovation, consultants are "comfortable bringing new ideas our way," Jessica says.
Take the project team's use of Reconophalt, a recycled asphalt product manufactured by Downer.
"Our consultant, Calibre, came to us with the idea because they knew we wanted to be world-leading and try different things.
"At the time, Reconophalt wasn't approved in the ACT. Rather than saying it was too hard, we did the work and now any project in the ACT can use Reconophalt. It's the same price as standard asphalt, but by using 4,200 tonnes of Reconophalt, we've been able to recycle three million plastic bags, 600,000 glass bottles and 75,600 printer cartridges at Ginninderry alone."
Another clever idea was driven by a desire to deliver sustainable transport.
"Transport Canberra doesn't usually commence bus services in new suburbs until there are around 2,000 residents. But we know people think about how they will commute before they buy." In response, Ginninderry purchased two shuttlebuses that have been operating since the first residents moved into their homes in February 2020. "We are currently seeing around 240 passenger journeys a week – which is higher public transport usage than the average in Canberra and provides an important asset for our community."
We are always on the hunt for ideas that make sense – environmentally, socially and economically. We want to be replicable and act as a model for others to follow.
Jessica Stewart, Sustainability Manager, Ginninderry
Caring for country
Of Ginninderry's 1,600-hectare site, 596 hectares that nestle between the urban area, the Murrumbidgee River and Ginninderra Falls have been set aside as a conservation corridor. This corridor is managed by the Ginninderry Conservation Trust.
"The Trust was established by the Ginninderry Joint Venture and is initially funded by the project. Funding mechanisms have been put in place to ensure that the Trust can operate in perpetuity," Jessica says. "The Ginninderry Conservation Trust builds on scientific, environmental and Indigenous knowledge and is working on a range of ecological restoration and biodiversity projects."
The Ginninderry Aboriginal Advisory Group was formed through a cultural values assessment process. Eight recognised knowledge holders, representing local families, were nominated. "They advise on cultural heritage management and knowledge sharing where appropriate. Some places have been excluded as urban space because of the group's knowledge."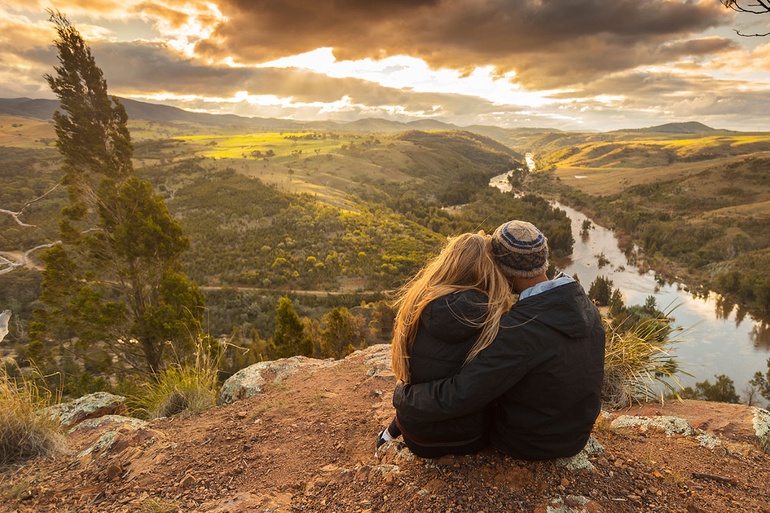 Some of the trees within Ginninderry's suburbs are hundreds of years old. Within Ginninderry's first suburb, Strathnairn, 80% of existing trees were retained – a figure much higher than the typical 25-50%, Jessica says. More than 2,500 new trees and 62,000 shrubs have also been planted throughout Strathnairn's open spaces. Ginninderry also provides front landscaping packages to all single residential homes.
Ginninderry's second suburb, Macnamara has been designed with 92% of its existing trees being retained. Meanwhile, researchers from the Fenner School of Environment and Society at the Australian National University are looking at how these mature trees can be maintained to increase habitat and biodiversity.
"We are driven by partnerships – the more we can work with industry, our residents, the research community and with the ACT Government, the better our outcomes will be."
Another interesting partnership is with community group ACT for Bees. "New suburbs all over the world are becoming bee deserts because strappy grasses and non-flowering plants have been preferred by developers. We've chosen street trees and shrubs that flower throughout the year creating bee pollinator corridors through our suburbs. This is increasingly important for our native stingless bees who cannot travel as far for food and water as honey bees."
And then there's Ginninderry's experiments with urban farming. "We are looking at the future of food production with climate change in mind," Jessica says. Foraging foods, like thyme, rosemary and feijoa, have been planted throughout the community to support local food production. The Link, Ginninderry's community and information centre, features an InvertiGro indoor vertical farm. Children from a nearby primary school take Ginninderry's shuttlebus to the centre once a month. "They carry out the food harvesting and water testing, and all the herbs and greens go to our social enterprise café."
Beyond bricks and mortar
Creating a community is about much more than the buildings. Ginninderry's many community-focused projects encourage diversity and foster inclusion.
The award-winning SPARK Training and Employment Initiative, which is committed to improving education, social and economic outcomes across the Capital Region, is one such example. "SPARK is going from strength to strength. We've filled over 1,200 training placements, 490 work experience placements and helped more than 530 people find jobs." SPARK is now being rolled out by the ACT Government across Canberra and rural NSW.
There's the Ginninderry Design Library, which features 60 artworks by prominent artists, and can be incorporated into built-form elements throughout Ginninderry's urban area.
And there's the With One Voice choir, which brings people together not just to sing, but to create the support networks needed to face life's many challenges.
Jessica Stewart sees sustainability as something of an octopus. "There are many tentacles and it's not just one thing or one point in time." Her team's work over the last five years is evidence of this philosophy. "It really is a team effort, not only by our project team itself but by every contractor and consultant that has worked to design and build Ginninderry."
After five years of hard work, Jessica has lost none of her enthusiasm for Ginninderry's vision. "When do you get an opportunity to work on a 40-year project with a real desire to be different? It's the chance of a lifetime."