The 46-storey, 188m tall AMP Centre was originally designed by Peddle Thorp & Walker and constructed in 1972. It is fronted by the AMP building featuring the American-inspired curved glass curtain wall- "Sydney's front door" providing a landmark entry to the city from the north and from the Harbour. The site is of historical and aesthetic significance as the first "skyscraper" in Sydney.
Due to aging and inefficient mechanical services and leaking façade, the site underwent master planning in 2013 with options to redevelop this building with the agenda of adaptive reuse being key to its success. A key strategy arising from AMP Capital and the design team's feasibility studies was the retention of 65% of the existing structure (existing columns, beams and slabs) and 95% of its original core.
To enable the twisting angular design by 3XN – a series of stacked 'vertical villages' designed around atria – floorplates were extended in different directions to create large open-plan spaces. The façade engineers in conjunction with the architects devised the facade shading strategy which folds and tapers following the sun as it moves from east to west minimising glare to support the twisting aesthetic while enhancing views towards the Opera House and the harbour.
The Life Cycle Assessment conducted by the team demonstrated a saving of over 12,000 tonnes of CO2e- of upfront carbon emissions from the reuse of concrete alone compared to a Reference Project. The structural carbon footprint of the building was estimated at 247 Kg CO2/m2 gross internal area. This is in contrast to 600 - 700 Kg CO2/m2 for a new building with full demolition of an existing building.
The new building structure is a bespoke addition to the existing building, with minimum demolition to stitch the extension to double its size. The slab extensions were designed as composite steel frames with a high strength-to-weight ratio to reduce gravity-induced overturning forces, hence reducing the embodied emissions of the new structure.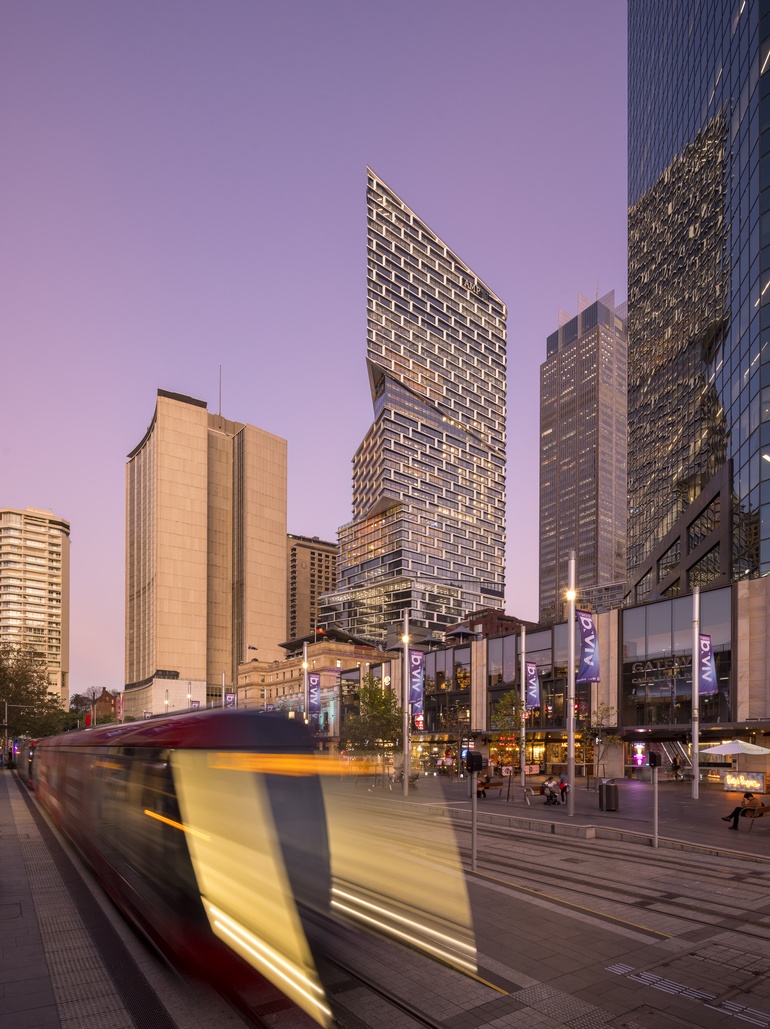 Structural frames and materials were chosen to efficiently conserve and maximise the reuse of the existing building with minimum retrofit and strengthening.

The Reference Project was defined as a new building with the reused concrete elements assuming new construction with the concrete strength and volume reflecting the existing structure and modern emissions factors.
The focus on upfront carbon provided for a safer planning approval pathway by retaining a substantial part of the existing frame and retaining the over-shadowing footprint in the botanic gardens to build within. Cost benefits also resulted. Apart from the savings on new build material costs, more than 12 months of construction time was saved in avoiding demolition of existing structure and parallel construction of new structure.