As Western Sydney's first cultural institution, Powerhouse Parramatta, starts to take shape, the project team turns to Green Star Buildings to deliver a sustainable, climate ready community asset.
As the largest cultural investment since the Sydney Opera House, Powerhouse Paramatta signals a new era for Sydney. For the first time, the city's geographical heart will beat with a cultural institution of international acclaim.
More than a museum, Powerhouse Paramatta has been designed to reflect the communities and cultures of one of Australia's fastest growing regions.
An ambitious, dynamic and evolving program will come to life in a truly spectacular space. The seven soaring, column free exhibition halls will share the Powerhouse's iconic collection and support new large-scale events for up to 10,000 people.
The Powerlab's 30 creative studios and 60-person dorm will give researchers, scientists, artists and students the chance to explore new ideas on site. Digital studios will support music and screen industries. A rooftop garden will produce Indigenous and local food. A giant 360-degree screen space, unique to Australia, will provide immersive education experiences in science, astronomy and technology.
Powerhouse Parramatta also promises to transform the riverfront with an active public domain and pedestrian connections between the CBD and the river.
The project's vision for sustainability is just as impressive – a vision that will be verified with the help of the new Green Star Buildings rating tool.
"We wanted to use the latest and most advanced sustainability rating tool, so we chose Green Star Buildings," says Chaya Bratoeva, Acting Director, Design and Delivery at the Museum of Applied Arts and Sciences.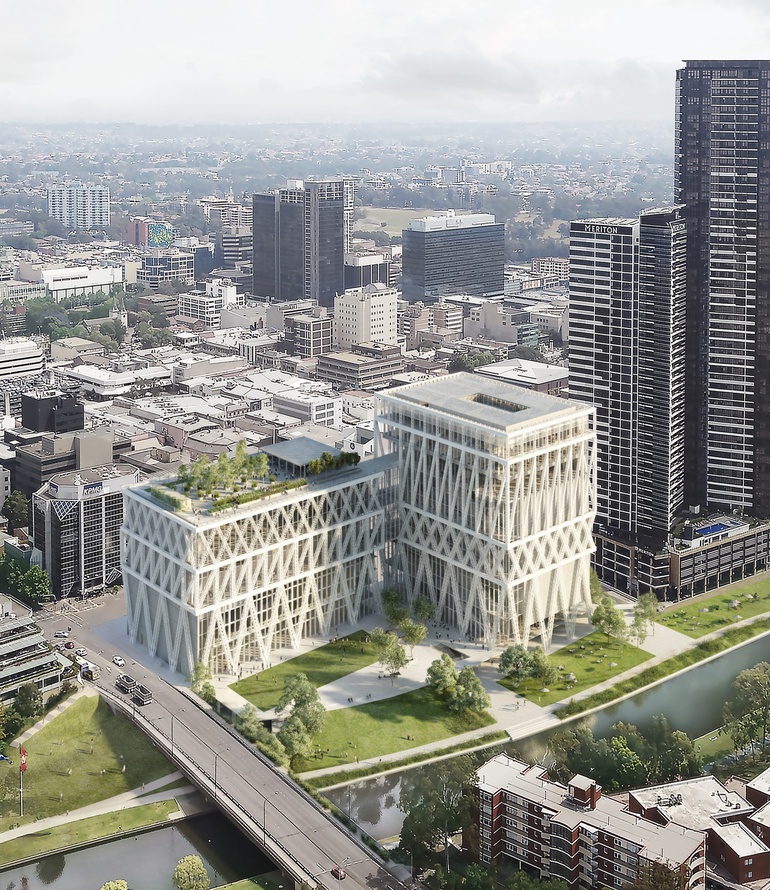 Powerhouse Parramatta fast facts:
30,000 sqm in size, including 18,000 sqm of exhibition and public space, making Powerhouse Parramatta the largest exhibition museum in Australia
30 studio residences and a 60 person dorm for scientists, researchers and regional students for overnight stays
Parisian based architecture firm Moreau Kusunoki has teamed up with Australia's Genton to design the museum
More than two million people are expected to visit in the first year of opening.
Guided by Green Star
Haico Schepers, Principal for Buildings Physics at Arup, has worked on Green Star projects since the rating system's inception.
"We were already discussing how Powerhouse Parramatta could be carbon neutral and fossil-fuel free, and how we could apply the United Nations' Sustainability Goals to the project," Haico says, when the GBCA offered a sneak peek of Green Star Buildings through the Early Access Program.
"There was strong alignment between our ambitions and the GBCA's for Green Star Buildings," Haico explains. The People and Places categories, for example, dovetail with the project team's commitment to community consultation.
Haico's colleague Daniel Harris, a sustainability specialist with Arup, is responsible for the Green Star submission. Some of the new Green Star requirements "pushed the project in different directions," Daniel explains, pointing to the 50 per cent improvement in outside air rates as an example.
"Green Star Buildings widens the sustainability net, with better linkages to the SDGs and the Paris Agreement," Daniel says.
Haico agrees. "Green Star Buildings relates to the key issues we face, like the climate crisis, so it helps project teams with prioritisation."
There is strong alignment between our ambitions for Powerhouse Parramatta and the Green Building Council of Australia's for the Green Star Buildings rating tool.
Haico Schepers, Principal for Buildings Physics, Arup
A carbon neutral page turner
Powerhouse Parramatta's carbon neutral story is certainly a page-turner. The building will boast a 100-kilowatt solar array, which will assist in powering the building.
"As a science museum, the Powerhouse has a long history of supporting established science on climate change. The design brief calls for a building that responds to potential climate change impacts while incorporating low and zero carbon technologies," Chaya says.
"Green Star provides verification of what we were already doing in some instances, and, in others, has driven us to consider new things."
The new Green Star Buildings Positive category establishes a clear formula for net zero buildings: fossil-fuel free, highly-efficient, powered by renewables, built with low carbon materials and offset by nature. This formula sets Australia's property industry on a pathway to net zero by 2030.
Powerhouse Parramatta will be fully electric with a small allowance for traditional flame cooking powered by gas, with onsite renewable energy complemented by GreenPower. Energy modelling predicts a 30% reduction in operational energy against business as usual.
A climate resilience strategy informed some far-sighted design decisions, with mechanical systems and plant room space able to accommodate worst-case temperature increases, Daniel says.
A building that gives back
The museum's distinctive exoskeleton, featuring a delicate steel lattice, offers curatorial flexibility with column-free exhibition space. The lightness and transparency of the building will connect visitors to the landscape and enhance the museum experience.
The structural steel lattice also enhances the building's efficiency by minimising its weight and carbon footprint. The exoskeleton was optimised – with "segments of steel cut away" Haico explains – to minimise the use of materials. It is an innovative dematerialisation strategy that is both practical and beautiful.
"We wanted to use robust and true-to-function materials, so the building won't use anything it doesn't need," Chaya explains. "There will be exposed concrete and minimal ceiling covers. There's honesty in what the objects do, and that delivers savings in materials.
Sophisticated building information modelling also allowed the project team to optimise the façade design for good temperature control suited to the local climate.
"We've done very well to balance aesthetic and environmental considerations, ensuring our visitors can enjoy an amazing view in a well-insulated building," Chaya says.
"The building is much more than a museum. It is being designed with the circular economy in mind and will be a place that gives back to the community, to the city and to the environment."