Constructed in 1963 and extended a number of times over the years, the former Clipsal light manufacturing building had laid empty since 2009. While a knockdown rebuild may have been easier, the building's industrial design proved ripe for a green retrofit.
Good bones for green
"When you walk into Plant 4, you know you are in an old industrial building," says the project's ESD consultant and Director of dsquared, Paul Davy.

Constructed at a time before air-conditioning was commonplace, the double brick façade provides great thermal mass. The saw-tooth roof and soaring ceilings flood the building with natural light and promote good air flow.
"While it's not always the case, we usually find buildings constructed before the 1960s have good bones – with passive design elements such as great daylight access, high thermal mass and good ventilation a given," Paul explains.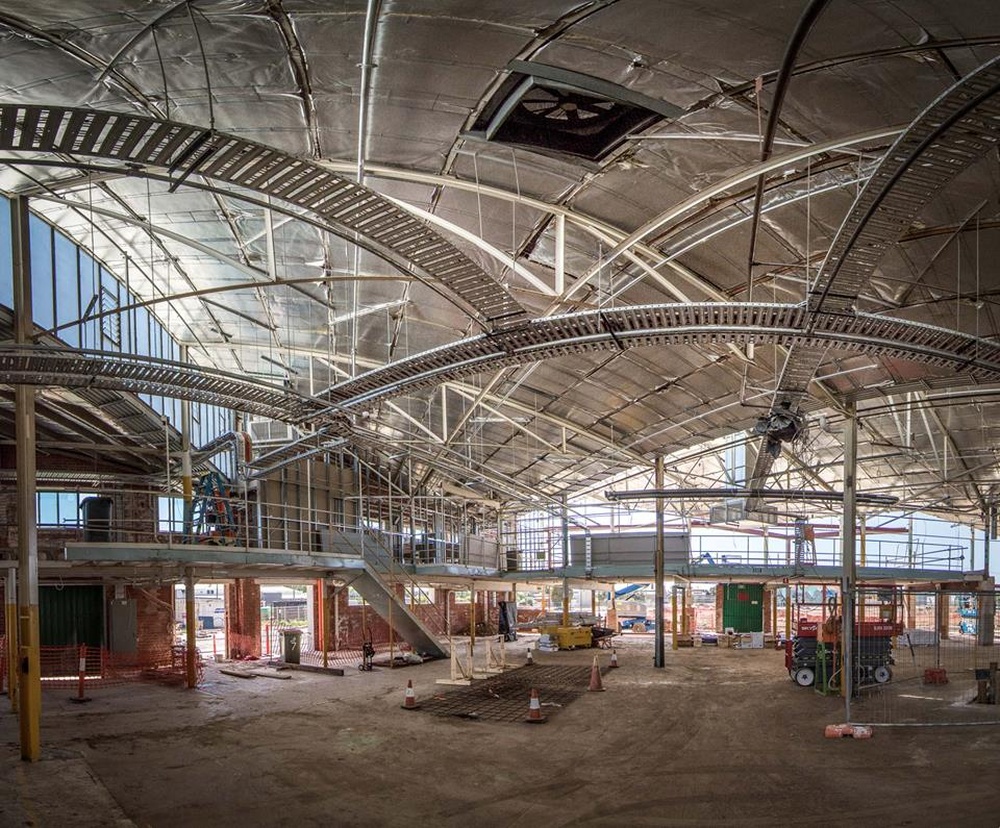 The project team was determined to maintain as much of the manufacturing character as possible. Many of the building's industrial elements – such as cable trays and lifting hoists – have remained intact as design features, while other building elements have been repurposed into new staircases.
"Our biggest challenge was making the building code compliant in a cost effective manner," Paul adds.
"Plant 4 had high thermal mass but limited insulation; it had fans and HVAC, but they weren't efficient. It was a shame to throw out the old lighting, but we needed to upgrade it to ensure it met today's benchmarks."
Some of the existing building evaporative cooling systems and some ventilation has been reused, while new services include direct and indirect evaporative cooling systems, lighting, potable and recycled water supplies, metering and building management systems. A new 60kW PV array is also being installed on the roof.
The upgrade specifications were contracted on budget with construction work now underway.
Vintage builds vibrancy
"Adapting older buildings is not only sustainable, but it helps us create a vibrant sense of community from the get go," says Renewal SA's Manager Sustainability Project Delivery at Bowden, Andrew Bishop.
The architecture of Plant 4 speaks volumes about the heritage of Bowden. The urban design guidelines for Bowden specify that even new buildings must respond to the industrial heritage of the area, and new residential buildings are incorporating bricks, sleepers and timber from demolished buildings in Adelaide.
"Maintaining some of the site's older buildings not only celebrates Bowden's heritage, but also builds extra character in an otherwise new community," Andrew explains.
Adaptive reuse also suits a retailing environment. The double height ceilings provide a sense of space and good ventilation, while the funky factory feel gives the retail space an additional edge.
"Bowden has been carefully designed to foster social and economic opportunities – and a vibrant built form enhances the streets, encourages dynamic local businesses and attracts the interest of locals," Andrew adds.
Thumbs up for Green Star
Renewal SA has set a high benchmark for sustainability at Bowden. Each building on the 16.3 hectare site must achieve a 5 Star Green Star rating – or above. Renewal SA has raised the bar further by committing to achieve a Green Star – Communities rating for the entire precinct.
"We are confident that mandating Green Star for every building in Bowden will deliver better outcomes from the perspective of operating the buildings – something that is important to us and important to residents and tenants," says Andrew.
"The Green Star framework is helping us to educate Bowden residents about sustainability, and how to best operate their homes. The advantages are clear – residents will save from having more economical buildings, and we'll attract more residents over time."
Paul says working with the Green Star – Design & As Built rating tool was "easy", particularly as the major credits are outcomes-focused.
"We've worked on a few new builds using Design & As Built, but this was our first adaptive reuse project. We expected we'd have some feedback for the Green Star team about how the rating tool applies to an existing building – but we didn't. I think this is a big tick for the rating tool.
"I am definitely recommending it to my clients. If you are considering using Green Star for a refurbishment or change-of-use project, I wouldn't be concerned about using Design & As Built," Paul adds.
As for the team at Renewal SA, they have their eyes firmly set on the future.
"We have a vision and firm commitment to achieving that vision. We understand that it will take time for people to appreciate the full value of the Green Star approach, which is why we mandated Green Star for all developments across the Bowden site.
"As more residents see the value of sustainability within their homes, they'll start demanding it more – and that in turn will drive residential developers towards Green Star. We believe Bowden has a role to play in creating that market for Green Star," Andrew concludes.