Reclaimed fishing nets, pine dust, recycled plastic milk bottles and linseed oil probably wouldn't spring to mind as materials you'd use to build a new child and family centre. But for the City of Greater Geelong, recycled materials and sustainability were a priority in the design and build of the Highton Child and Family Centre.
The Centre represents a new approach to childcare, one that is concerned with more than just a child's care and instead seeks to centralise key health, education and support facilities for children and their families. As such, this building is packed full of all that a young family could need for a home away from home, boasting two kinder rooms, two maternal health consulting rooms, a multi-purpose room and scope to provide an afterschool care service. For even more family friendly convenience the centre has been built on the grounds of Bellaire primary school ensuring that families don't have to go out of their way to visit or collect children.

While young families will be the key beneficiaries of such a well located space, City of Greater Geelong project manager John Elliot says: "The project is also delivering benefits to staff, tenants and the wider community."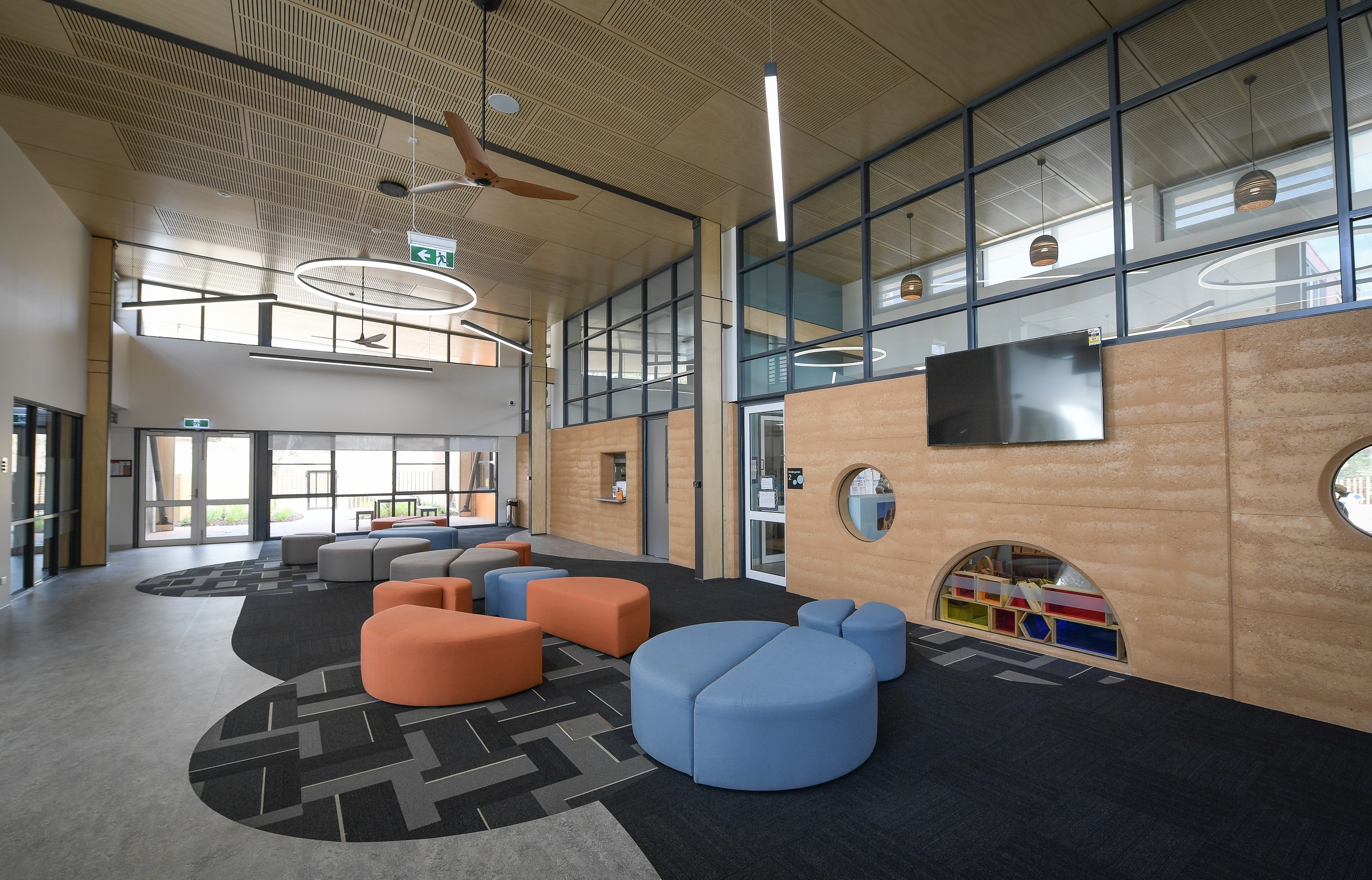 Sustainability has been worked into every stage of the building process from ensuring steel was responsibly sourced for the building's frame, to designing above Australian standards in an effort to ensure the building can adapt to future climate shifts. Minimising the use of externally supplied energy and water was a particular priority of the project leading to the use of solar panels, stormwater re-use in the garden and toilets and highly water-efficient fittings. These design measures have put the centre on track to receive a 5 Star Green Star Design & as Built rating.
The lifecycle impact of materials was also considered with construction waste recycled where possible, while concrete slabs were created using reclaimed water and recycled aggregates. Other materials used were also derived from sustainable sources including carpet tiles made from reclaimed fishing nets; a wood-like product made from pine dust and recycled plastic milk bottles; and linoleum made from linseed oil.

"The push to create a sustainable integrated childcare centre came directly from the City of Greater Geelong" says Georgie Kelly of Brand architects.
This was largely due to the council's sustainable building policy, a scheme that seeks to increase the environmental sustainability of both new and renovated buildings around Geelong, as well as deliver economic and social benefits for the wider community by reducing operating costs and creating healthier work environments.
For the children that attend kinder and playgroups at the centre, the flexible design of outdoor spaces mean that a significant amount of time is spent outside, whether that be playing on equipment or participating in outdoor classes. This was a conscious design decision because of the proven benefits time outside can have on mental and physical health. For those times spent indoors, measures were taken to ensure the children within weren't entirely cut off from their natural surroundings by incorporating earthy tones and materials such as timber and rammed earth, into the building's interior. This connection was furthered by the large glass sliding doors that link each room to the outdoors, ensuring that nature is only ever a glance away.


The separation between indoor and outdoor space is further blurred with the exterior walls of the building in the early stages of 'greening' by Boston Ivy creepers, which were chosen for their poetic seasonality: in the summer the creepers will be green and leafy and prevent the walls from absorbing excessive heat; the transition to autumn will turn them orange, red and purple; in winter the rendered brick will be revealed behind the black winding stems; and in spring the process will start again. It is with these small touches that this building proves that pursuing environmental sustainability doesn't have to compromise thoughtful design.

At its core that is the genius of this building. It's pursuit of sustainability hasn't come at the expense of interesting design, appeal to children or usefulness to the community.
Written by Eleanor Earl