Mirvac's Heritage Lanes building and precinct at 80 Ann Street in Brisbane was already 85% procured when Green Star Buildings – Australia's leading rating tool for new buildings and major refurbishments – was launched into the market in late-2020.
With a mission to make life better for millions of Australians, Mirvac's project team saw this as an opportunity to create a sustainable building that would influence positive environmental and social change.
Heritage Lanes is Mirvac's first large-scale net zero carbon in operation office development, powered by 100% renewable electricity.
One of Australia's smartest and most sustainable office buildings, Heritage Lanes is the expression of a partnership between Suncorp and Mirvac. From project inception, Mirvac set out to create a world-class workplace that is 'uniquely Queensland' with a truly flexible design to meet Suncorp's needs and a high level of sustainability.
Healthy, efficient and sustainable, Heritage Lanes set out to achieve Green Star Design & As Built and WELL ratings, and was also designed with Brisbane City Council's Buildings that Breathe guidelines firmly in mind.
Mirvac's team knew they wanted to future-proof the building – and that meant making sure it was sustainable across several measures.

The development's green credentials were never just about ticking boxes. The building combines Queensland authenticity with global thinking to create a world-class workplace for Suncorp and other tenants, and a new activated city precinct for the community.

The inspiration for the design was sitting on the verandah of a quintessential Queenslander. 80 Ann provides windows that open to cooling breezes, high ceilings that flood spaces with light, and careful orientation that suits the subtropical climate. Lush, landscaped terraces, a generous atrium and a focus on biophilia connect people to nature. Heritage Lanes was purposefully designed to revitalise the urban precinct and enrich the Brisbane city community, delivering a new destination for workers, locals and visitors to work, shop and play.
The ground plane design improves pedestrian connectivity from Ann Street to Turbot Street through public laneways and thoroughfares, maximising flexibility, permeability, and subtropical layered greenery, creating an urban garden oasis.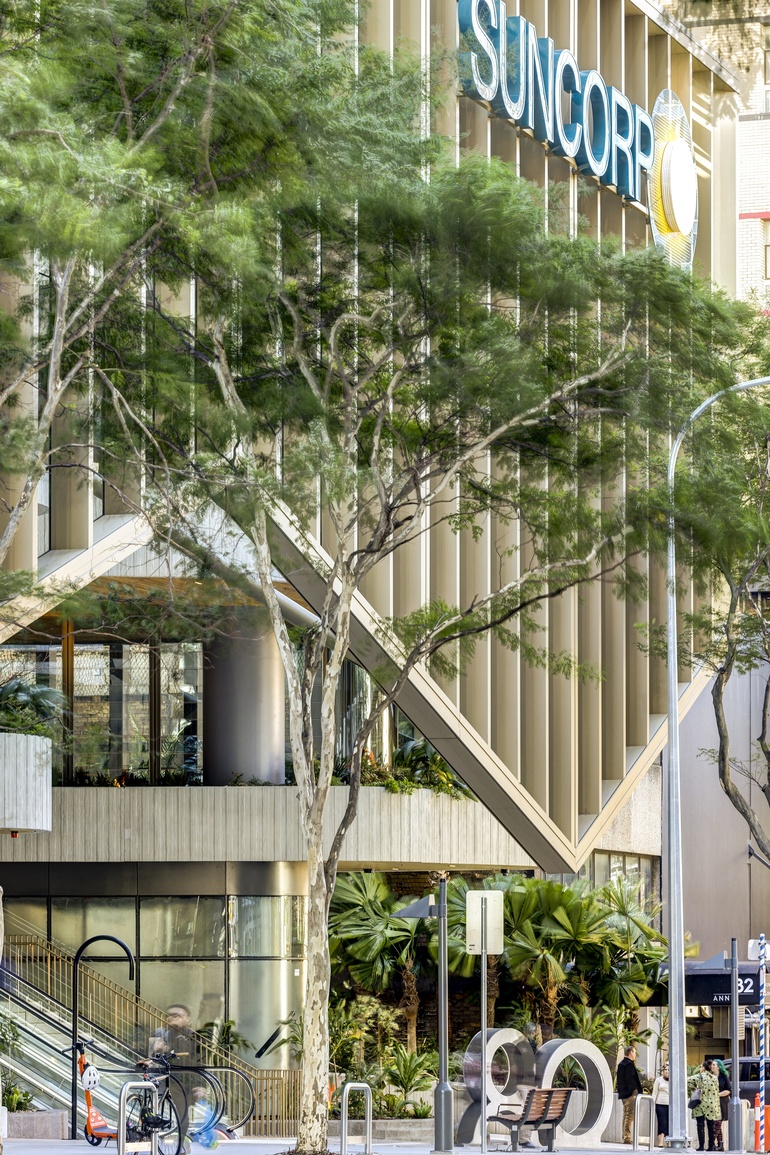 80 Ann Street fast facts
60,000 sqm of commercial office space across 35 levels
Suncorp occupies two-thirds of the building, joined by IWG (Spaces), KPMG, APA, Woods Bagot and Mirvac
14 retail tenants across 1,500 sqm
More than 1,900 sqm of usable outdoor space at ground level
End-of-trip facilities support healthy and active living, with 665 bike racks, 1,302 lockers, 66 showers and space for 10 electric scooters
100% of the planting on site is Australian native, with 80% sourced from the south east Queensland bioregion
State-of-the-art smart building technology collects more than 90 billion data points daily, delivering one of Australia's most intelligent and responsive buildings
80 Ann Street was initially registered under the Green Star Design & As Built v1.2 rating tool but was upgraded to Green Star Buildings in March 2021.
Verifying the vision
Mirvac's vision for the project was already boundary pushing – and using the most ambitious Green Star rating tool was a way to verify this.

The decision to extend and meet the Green Star Buildings requirements was made in early 2021, at a point where the team was already some way down the project path. This made the responsible product category sourcing a challenge.
Mirvac investigated a range of initiatives that could be pursued at this later stage of procurement.
"In terms of product, there's a gap between what is now on the market and what is needed to meet Green Star Buildings requirements," says Simon Healy, Group General Manager, Commercial and Mixed Use Development at Mirvac.
"Working together with our partners we were able to bridge this gap and get good outcomes, so much so, several of our suppliers have achieved environmental product declarations as a result of working with us on this project, making it easier for them to bid for future work."
A 6 Star Green Star Buildings rating means that all operational carbon is eliminated – a requirement that can be challenging for mixed-use buildings, Mirvac notes.
"We amended the design of the hot water system from gas to electric, enabling the base building services to be 100% electric. Commercial tenants agreed to convert their kitchens from gas to electric, and we also offered incentives to help retailers make the switch."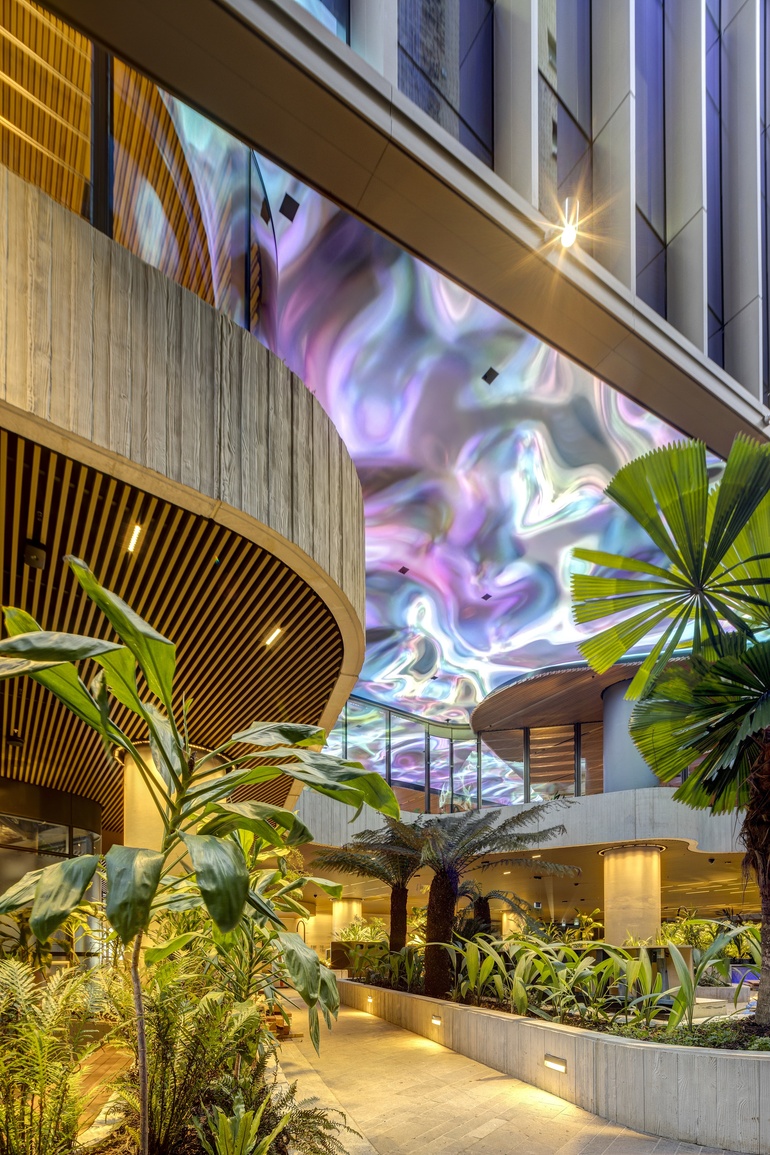 Healthy buildings, healthy people
Mirvac's Platinum WELL target for Heritage Lanes was a clear demonstration of leadership before Covid-19 changed the way we think about healthy buildings.
But now, as 22% of Australian employees say they value health and wellbeing above all other workplace benefits, these features are fundamentals for a best-in-class building.
"Heritage Lanes was designed before the pandemic but it delivers on air quality and ventilation, incorporates sensor taps and soap dispensers in the amenities, and 80% of the floorplates are within 12 metres of a natural light source," says Mr Healy.

As people adjust to the 'new normal' and priorities and preferences change, tenants now want healthy, sustainable spaces even more.
"The urban garden at the ground plane motivates people to move out from behind their desks, and a bush tucker component will offer exciting native food options as it matures over time."
The entire lobby level is 'breathable' – with louvred and shugg windows that open and shut to enjoy the Queensland weather. There are also multiple mixed mode tenant floors so people can choose the setting that suits them.
History and connections to Country celebrated
Spectacular artwork by Quandamooka artist Megan Cope provides a First Nations voice and connection to Country within the precinct. Megan's ground plane artwork references the historical creek that now lies beneath the road but continues to flow through Country.
The design of Heritage Lanes preserves the architecture and the activity of its former life as the site of the Brisbane Fruit & Produce Exchange from 1906 until 1969. The building's design, inspired by the traditional covered marketplace that once stood on the site, uses large setbacks and vaulted ceilings to bring the light in.
With the help of local historian Thomas Blake and heritage specialists at Urbis, Mirvac and Woods Bagot preserved the two-story brick masonry building on Turbot Street and reinstated two of the original trading bays from the interior of the markets, reimagining retail for a new generation. Visitors are reminded of the area's story through an interpretation overlay that includes historical timelines alongside market sounds, light projections, and graphics.
Opportunities like 80 Ann Street don't come around often. A company and project team fully aligned on best outcomes for project and for city, by pushing boundaries, made it possible for Mirvac to pursue 6 Star Green Star Buildings. Green Star Buildings is a big shift that requires us to think outside the box, and to go above and beyond what we once thought possible.
Simon Healy, Group General Manager, Commercial and Mixed Use Development, Mirvac