Mirvac's Heritage Lanes building and precinct at 80 Ann Street in Brisbane is now the first in the world to achieve a 6 Star Green Star Buildings certified rating.
Heritage Lanes building and precinct was already 85% procured when Green Star Buildings – Australia's leading rating tool for new buildings and major refurbishments – was launched into the market in late-2020.
Mirvac's team knew they wanted to future-proof the building – and that meant making sure it was sustainable across several measures.
It wasn't about building better; it was about building the best. And Green Star Buildings was the rating tool Mirvac turned to.
"We saw it as a great opportunity to showcase our sustainability credentials and have them independently verified and certified by an industry body with the independence and status of the GBCA," said Simon Healy, Group General Manager, Commercial and Mixed-Use Development at Mirvac.
Heritage Lanes fast facts:
60,000 sqm of commercial office space across 35 levels
More than 1,900 sqm of usable outdoor space at ground level
End-of-trip facilities support healthy and active living, with 665 bike racks, 1,302 lockers, 66 showers and space for 10 electric scooters
100% of the planting on site is Australian native
State-of-the-art smart building technology collects more than 90 billion data points daily, delivering one of Australia's most intelligent and responsive buildings
Architects, Woods Bagot | Engineering services, Arup | ESD Consultant, AECOM
Green Star Buildings
The Green Star Buildings rating tool is for new builds and major refurbishments looking to be future ready. Launched in 2020, Green Star Buildings is designed to encourage bold climate action, create healthy and positive buildings and places, and firmly address the issues that will define the next decade of the built environment.
"Despite the fact that the project was under construction when the pilot project was first launched, the project team saw being involved as a great opportunity for Mirvac to be part of the team developing the new version and work with the GBCA to assist in delivering a world class rating system. The project team wanted to do more than simply follow the lead of others, and instead show leadership through what is possible with meaningful actions," said Simon.
There are 8 categories within the Green Star Buildings certification that enable developers and owners to act on what matter most. To achieve a 6 Star Green Star rating, high performance across the board is required – and Mirvac rose to the challenge.
Heritage Lanes building and precinct performed exceptionally well in:
Responsible: Mirvac received exceptional performance for responsible structure, finishes and systems. Highlights include:
The reuse and refurbishment of an existing two-storey heritage building, and reinstatement of a heritage market shed
The tower construction used a lower carbon concrete made with 70 % recycled water and 89% recycled steel content
90% of construction waste was recycled
Recycling and waste management has been given careful attention across the tower, and education programs were provided to partners and suppliers on initiatives that minimise waste and environmental impact
Positive: Heritage Lanes is Mirvac's first large-scale net zero carbon in operation office development, meaning the base building services are powered by 100% renewable electricity.
Heritage Lanes limits the need for heating and cooling through the building's façade which reduces the transfer of solar radiation.
Water saving features include the reuse of rainwater for cooling towers and irrigation, with 100 kilolitres of storage on site, and the building features 129kW of solar energy generation.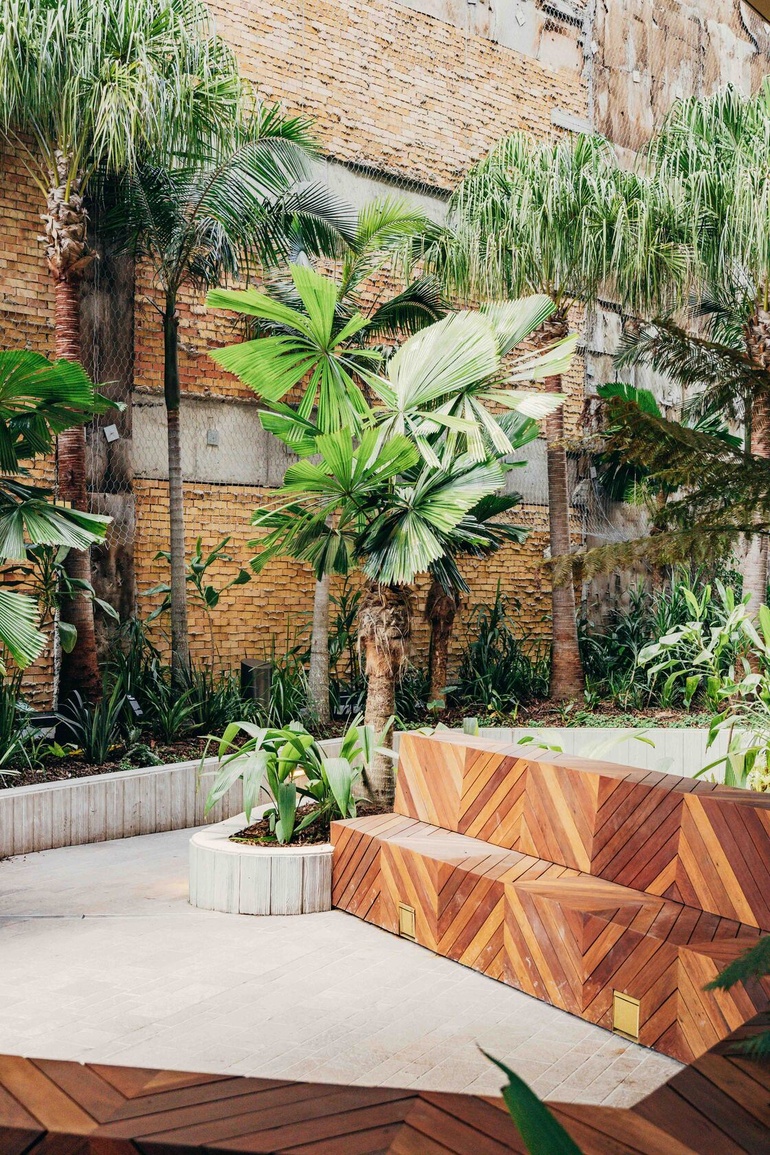 Places: Mirvac intentionally retained heritage through design
Heritage Lanes preserves the architecture and the activity of its former life as the site of the Brisbane Fruit & Produce Exchange from 1906 until 1969
It has created an inclusive and vibrant community, which includes the cross-block public laneway known as 'Market Lane', an urban garden, arbour, and reflection pool, and has an impressive showcase of artworks by First Nations artists.
Visitors are reminded of the area's story through an interpretation overlay that includes historical timelines alongside market sounds, light projections, and graphics.
Nature: Heritage Lanes keeps people connected to nature, while enhancing biodiversity
Australian native plant species offer visitors a breathable space to interact with nature, encouraging health and wellbeing benefits.
Lush, landscaped terraces, a generous atrium, and a focus on biophilia connect people to nature.
100% of the planting on site is Australian native, with 80% sourced from the southeast Queensland bioregion.
Healthy: A 'breathable' building
The entire lobby level is 'breathable' – with louvred and sashless windows that open and shut to enjoy the Queensland weather
This was designed before the pandemic, but it delivers exceptionally well on air quality and ventilation. The amenities incorporate sensor taps and soap dispensers.
End-of-trip facilities support healthy and active living, with 665 bike racks, 1,302 lockers, 66 showers and space for 10 electric scooters
People: History and connections to Country celebrated

Artwork by Quandamooka artist Megan Cope provides a First Nations voice and connection to Country within the precinct. The ground plane artwork created by Megan references the historical creek that now lies beneath the road but continues to flow through Country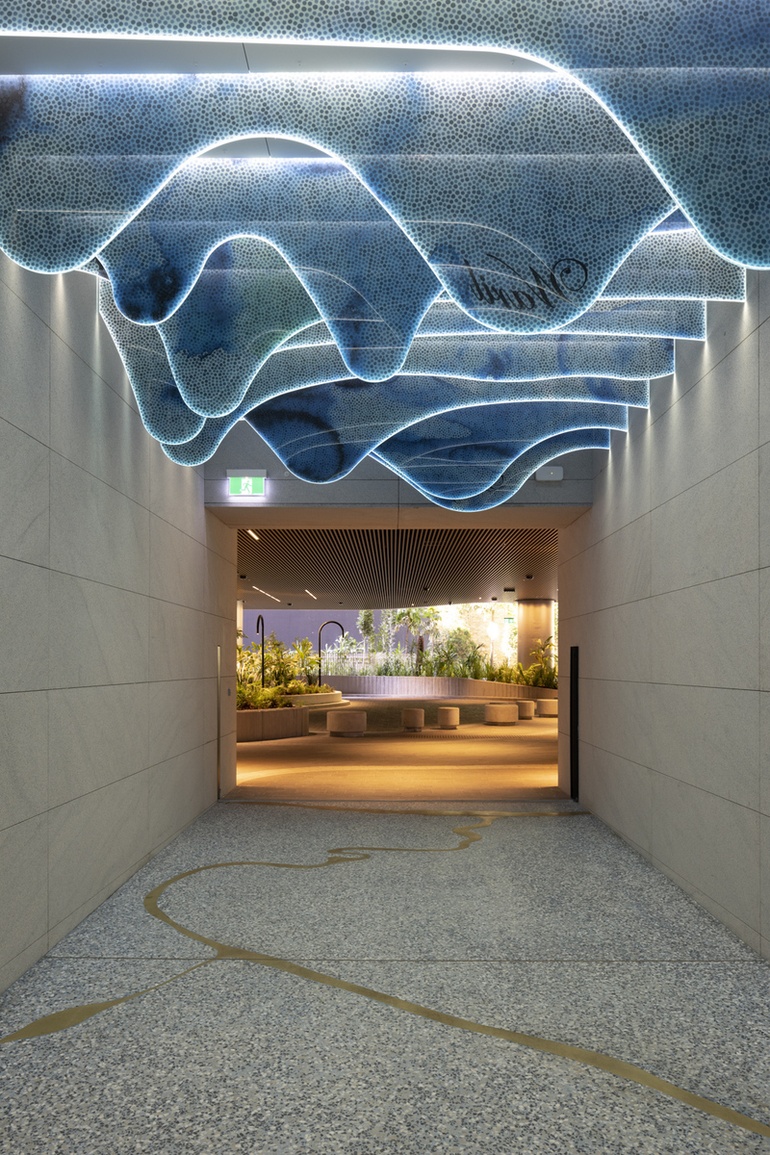 Better buildings, better for tenants
Suncorp has been a tenant at 80 Ann Street since it officially opened in early 2022. Suncorp Group's Head of Real Estate, Maurice Gallagher said the desire to operate more sustainably and in an office that is more than just a place to go to work, was a significant reason for choosing Heritage Lane's as the new headquarters.
"We aimed for a workplace that could adapt to future needs, supported by a wealth of new tech and sustainability features and thoughtfully designed spaces that make it an attractive and comfortable place to work.
"It symbolises connection and community and allows for greater team collaboration and flexibility to support our hybrid working model, offering staff more choice for how, when and where they work."
Mr Gallagher said Heritage Lanes is an industry leading green workplace with a key focus on sustainability, innovation and occupant wellbeing.
"Mirvac's sustainability plans and aspirations were a significant influence on Suncorp's decision to choose Heritage Lanes as our new headquarters.
"At Suncorp, we see first-hand the devastating impacts of climate change when we are on the front line with our customers and communities after severe weather events. We are very conscious of doing everything we can to proactively reduce our environmental footprint and operate more sustainably," he said.
Opportunities like 80 Ann Street don't come around often. A company and project team fully aligned on best outcomes for project and for city, by pushing boundaries, made it possible for Mirvac to pursue 6 Star Green Star Buildings. Green Star Buildings is a big shift that requires us to think outside the box, and to go above and beyond what we once thought possible.
Simon Healy, Group General Manager, Commercial and Mixed Use Development, Mirvac