The Green Building Council of Australia (GBCA) today launched its first report on grid-interactive buildings, highlighting the crucial role they will play in achieving a zero-carbon future.
Grid-interactive buildings are designed to use electricity in a smart and efficient way, shifting energy usage to times when it's both cheaper and cleaner, while helping to generate clean energy and reduce costs.
Read and download the paper here.
Below are the four case studies which feature in the paper which all represent buildings which are setting an example for how we will transition our built environment to zero emissions
University of Technology Sydney: Dr Chau Chak Wing Building
Network capacity charges in the Sydney CBD and surrounding suburbs are based on a building's maximum half-hourly demand during the weekday hours 2.00pm – 8.00pm weekdays, and are set on a rolling twelve-month basis.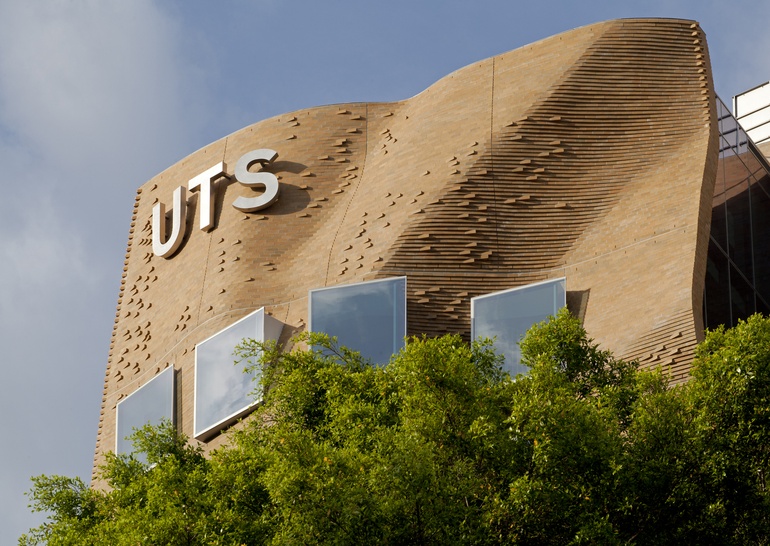 To avoid a forecast 'reset' on 17 January 2022, at 8:00am the global temperature setpoint in the Frank Gehry-designed business school building was changed from the normal summer setpoint (23.0°C) to 22.0°C. It was then raised to 24.5°C at 1:45pm. The setpoint was returned to the normal 23.0°C setting at the end of the day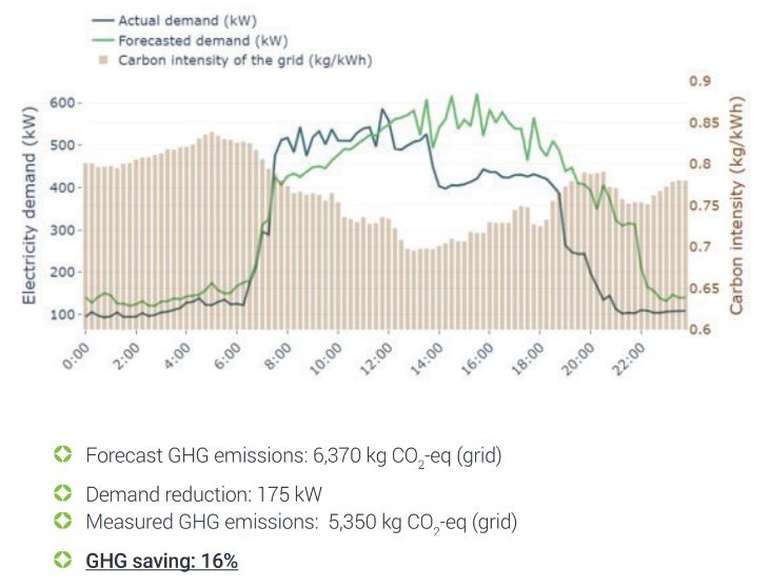 Grosvenor Place
Grosvenor Place's all-electric HVAC system includes a large thermal storage plant (ice and hot water) which facilitates the shifting of electrical loads from peak to off-peak. Until recently, the electricity grid needed more demand at night. But with demand increasingly needed during daylight hours, this has created an opportunity for Grosvenor Place to adjust the operating strategy, as illustrated below. On Sunday 17 July 2022, building management scheduled chillers to run as heat pumps from 10:30am to 3.00pm, generating hot water to help with the usual warm up on Monday morning.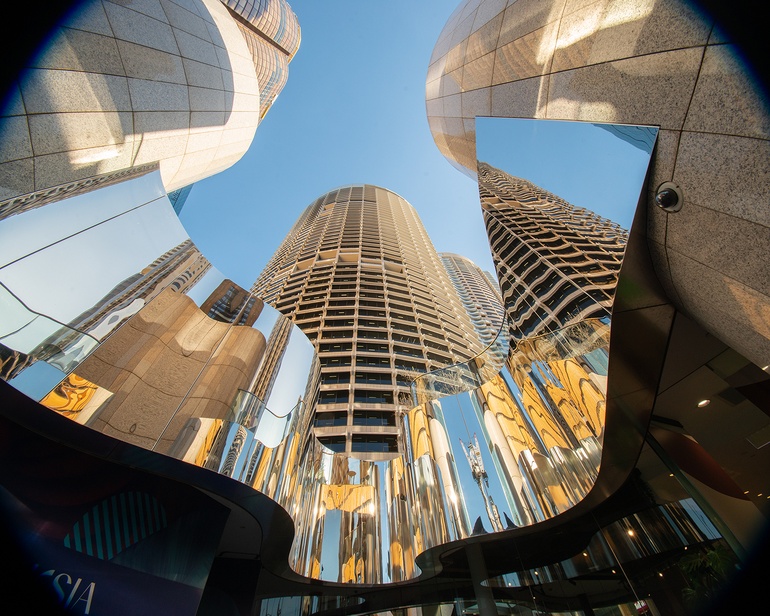 This demand is illustrated in the first plot, showing GHG emissions from electricity used throughout the day. Theoretically, using the official NSW emissions factor published by the Australian Government for reporting purposes (0.79 kg/kWh), the building contributed 24,013kg of CO2 -eq emissions to the atmosphere during that 4.5-hour window (the green line). However, by taking into account the carbon emissions occurring in real-time from all the generators feeding the local electricity grid during the period, 15,790kg of CO2 -eq emissions were measured: 8,223kg (34.2%) less.
EG Funds Management
EG Funds Management has adopted an innovative decarbonisation pathway targeting "Real" zero carbon emissions for two of its funds by FY2030. Each building in the ACE and DELTA portfolios has been analysed for emission reduction opportunities, taking into consideration the real-time measured carbon intensity of the grid and the projected changes in renewables on the grid through to 2030.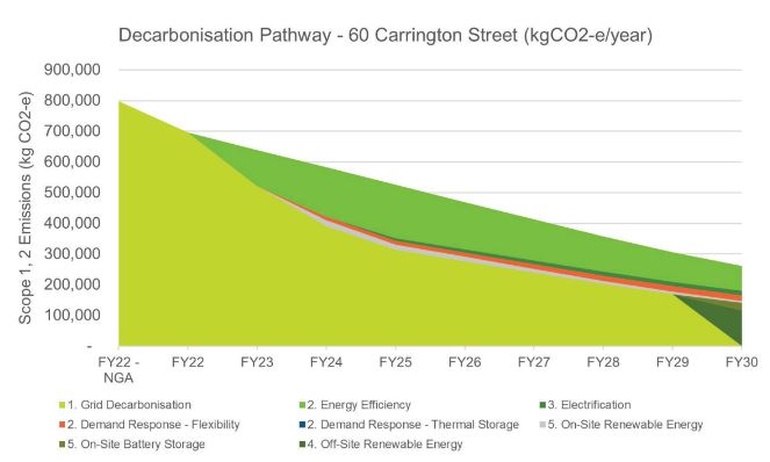 Included in the suite of initiatives to achieve "real zero" are energy efficiency measures, full electrification, active demand flexibility, on-site renewable energy, on-site battery storage (thermal and electrical, including EVs), off-site renewables and the elimination of residual emissions from refrigerants and back-up generators. Following this approach, EG expects each building in the ACE and DELTA portfolios to be operating on carbon-free energy 24/7 by 2030.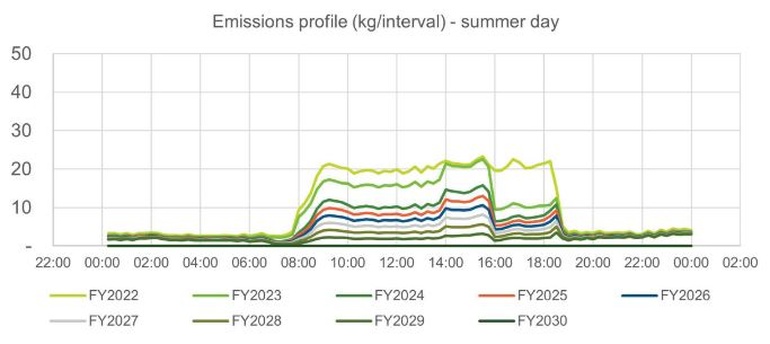 Sydney Opera House
The Sydney Opera House has an innovative power purchase agreement (PPA) that ties its electricity demand to the output of solar and wind farms in regional NSW. In 2022, the City of Sydney awarded the Opera House an 'Environmental Innovation Grant' to further explore ways to match its demand more closely to renewable energy production, utilising fine-grained forecasts of both demand and supply. On Sunday 7 May 2023, renewable energy generation was forecast to be plentiful in the morning before dropping off in the early afternoon.
Drawing on a five-day-ahead forecast,


management programmed the building automation system (BAS) to pre-cool and dehumidify three venues (Joan Sutherland Theatre, Studio and Drama Theatre) in the 90 minutes preceding the renewables generation drop-off point (10:30 AM–12 PM) and then shed load by allowing conditions to gradually return to normal setpoints when renewables were forecasted to drop (12-3PM). At 3 PM all overridden control points were released back to auto.

Between 12 PM – 3 PM the building achieved close to 500 kWh load reduction on the Chiller plant and AHU meters compared to a directly comparable day (9 October 2022, also a Sunday), without conditions in the venue areas falling outside normal limits.
While the experiment was a clear success and paves the way for ongoing deployment of load flex strategies,


there were no emissions savings renewables covered building demand until 3 PM on account of the changing weather (the test was scheduled days in advance). This outcome highlights the scale of the opportunity and the value of automating the relationship between the forecast signal and the response.