With its appeal to the eye, the environment and the community, Green Square Library and Plaza may be unlike any library you've ever known.
Located in Sydney's inner south, an area once considered to be its industrial heartland, the library forms a central part of the City of Sydney's ambitious plan to renew parts of Sydney that have been long underutilised. The building and surrounding plaza are in some respects, the crown jewel of the broader Green Square urban renewal project . This area extends across Beaconsfield and Zetland, and into parts of Rosebery, Alexandria and Waterloo, making it the largest urban renewal project in the Southern Hemisphere.

The library—designed by Stewart Hollenstein Architecture—itself is a striking and somewhat deceptive piece of design as only a fraction of its form can be seen from ground level. But perhaps it is more remarkable that the project has maintained its commitment to the community and environment as well, both of which are key factors in it surpassing its own 5 Star expectations and achieving an impressive 6 Star Green Star – Public Building as Built rating, the first library to do so.
Just two years on since construction, this project provides a glimpse into the kind of city that Sydney could look like in the future; one that is well planned, optimises available space and is accessible to a broad section of our community.

Clearly there is much to boast about, but here are three key initiatives of particular note:
1. For starters, the library is located mostly underground

With a finite amount of space on offer for the library and plaza to share, much of the library has taken its form underground, directly beneath the plaza. In fact, there are only three library spaces that can be spotted from ground level: a glass entry pyramid; a 6-storey mini-tower housing reading and music rooms and community spaces; and a circular sunken garden.
The subterranean layout was integral to Stewart and Hollenstein's unique concept design. This led to some challenges for the engineering team, for example the project's location on an existing floodplain necessitated the creation of a 2.4 kilometre long drain. While access to daylight and natural airflow was achieved through the library's internal courtyard, the incorporation of 49 skylights and a specialist low energy ventilation system.
In the long run, this light-filled space also has key advantages in that it is naturally less exposed to the elements ensuring it is cooler in summer and warmer in winter.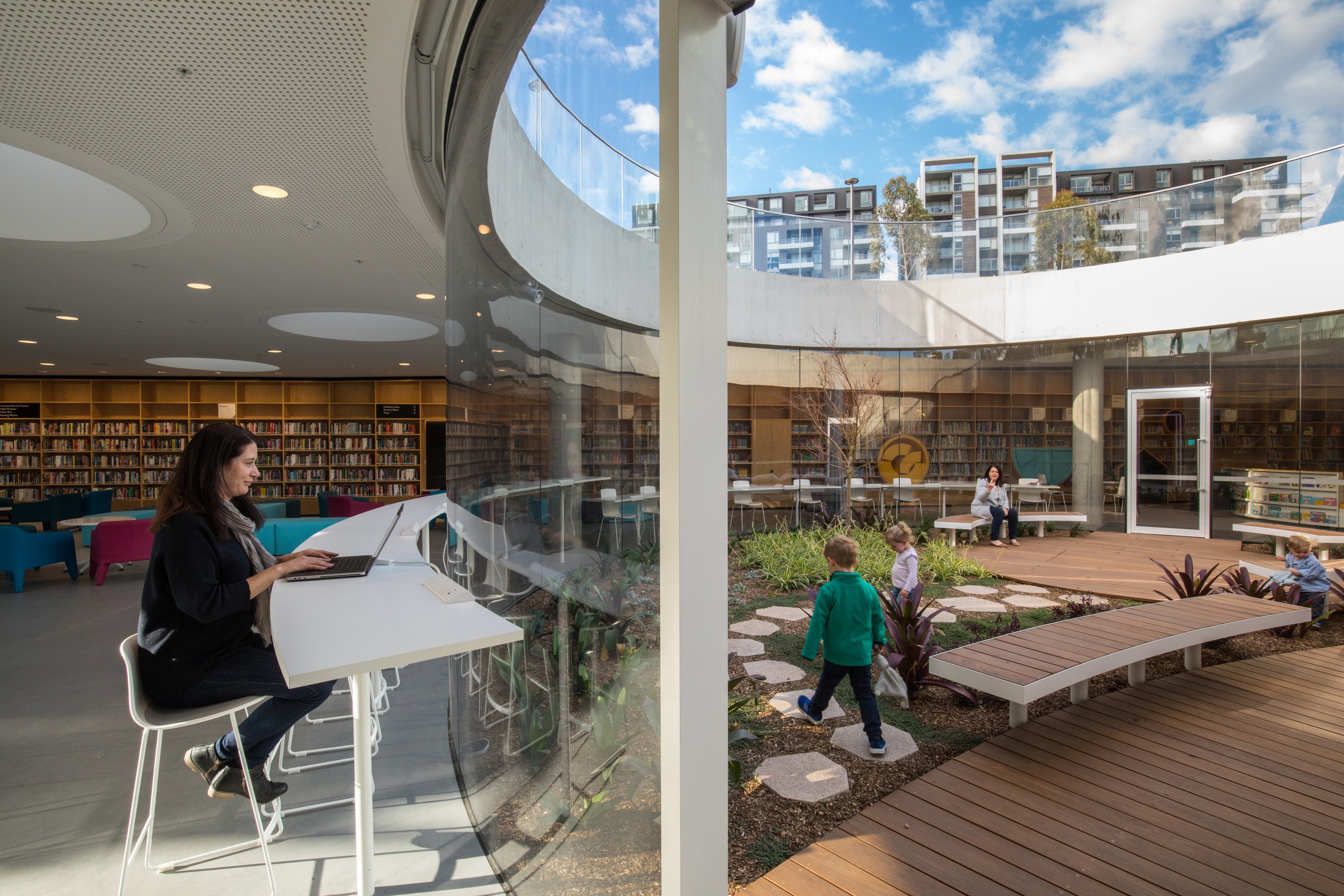 2. The urban renewal occurring more broadly in the Green Square area provided the opportunity for precinct-wide sustainability initiatives

The library and plaza are two key community areas, in the heart of the town centre. Located alongside a train station, park (currently under construction) and public pool (opening early 2021) that make up the broader Green Square town centre renewal site. Working from the ground up on a project of this scale provided a rare opportunity to engage with precinct-wide green infrastructure initiatives.


These initiatives include simple ones that make the community more liveable, like a connected and walkable town centre featuring 12km of bicycle paths, over 40 green, open spaces and tree lined streets. While other initiatives are more sophisticated; like the urban stormwater harvesting and recycling system (one of Australia's largest) and a mini grid that connects to Green Square's public buildings allowing them to share the energy harvested through the precinct's network of solar panels. It is this combination of initiatives that has resulted in the broader Green Square renewal project also achieving a 6 Star Green Star – Communities rating.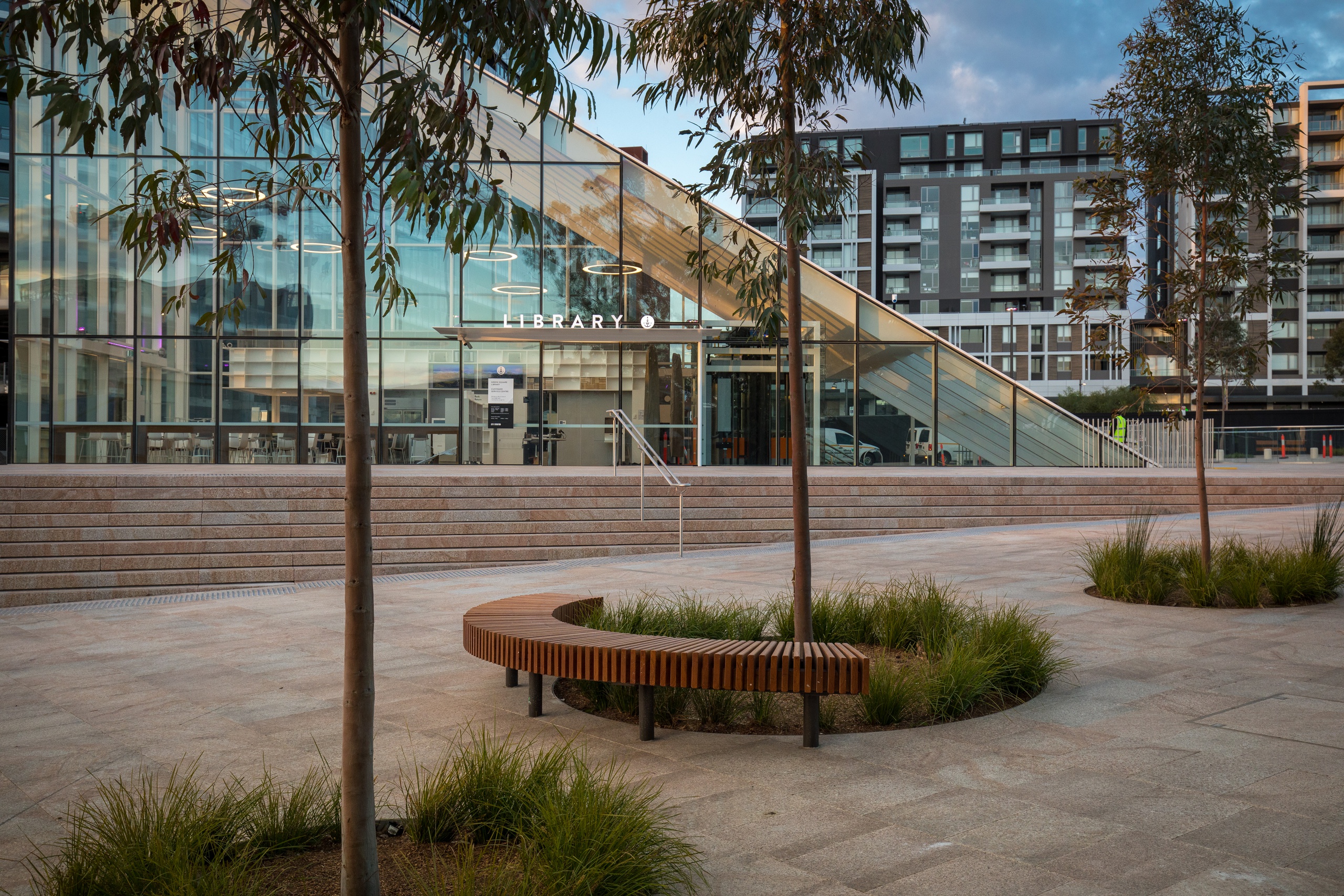 3. It caters to more than just the needs of readers
Located in the centre of the Green Square development, the library and plaza provides a central anchor for the community that will grow around it. In order to engage as much of the community as possible, the library is comprised of much more than just books. There's a huge collection of magazines, CDs, DVDs, makerspace kits, video game consoles to borrow and free Wi-Fi and study spaces. Musical instruments and equipment are available to use when you hire the music room, which also comes with its own baby grand piano.
This accessibility is also evident in other aspects of the project – from free library memberships for NSW residents to the creation of services that are aimed at users of all ages, abilities and ethnicities – ensuring the diversity of Green Square's residents will be reflected in the people using the library itself.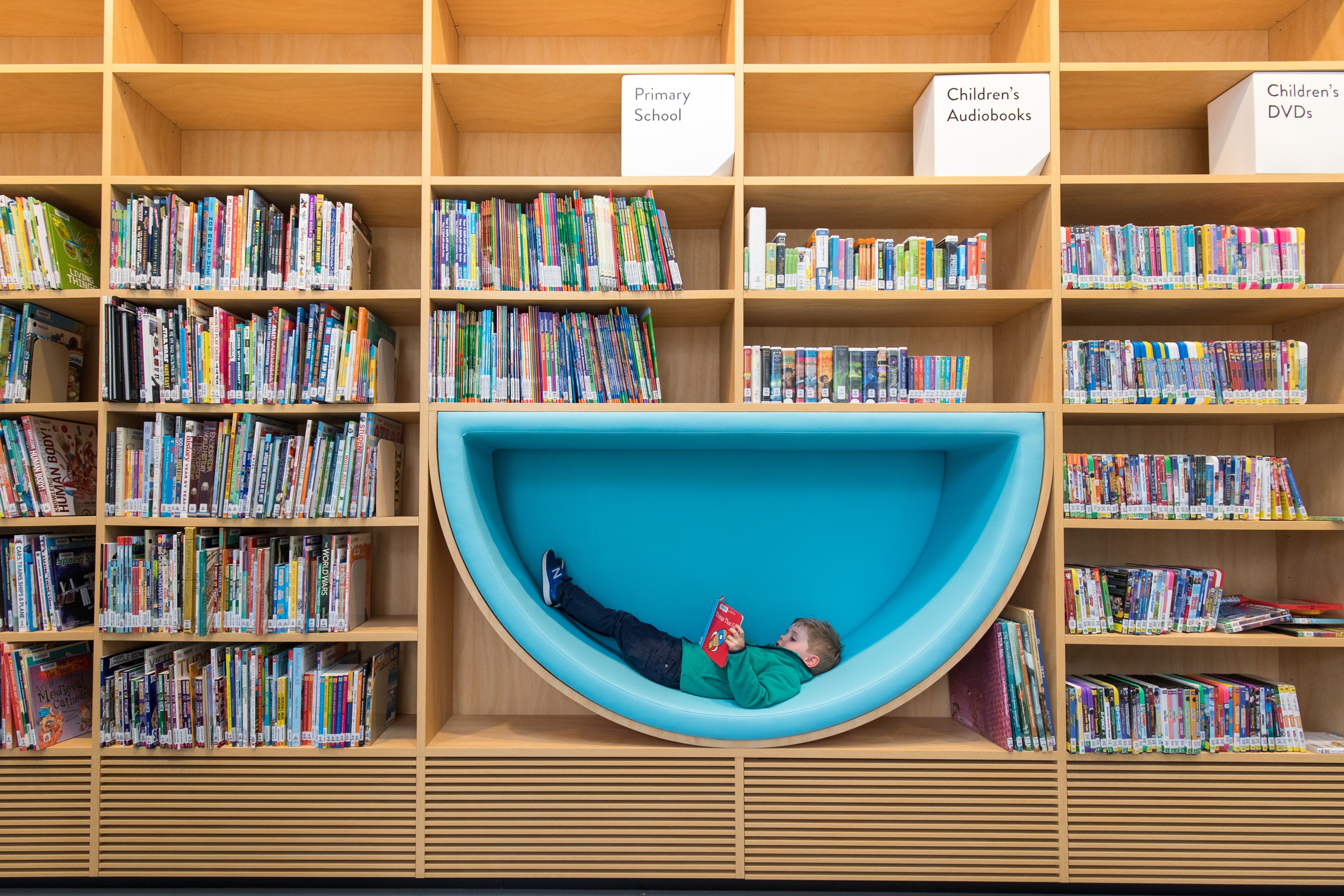 The library and plaza is the perfect place to read, learn and immerse yourself in one of Sydney's newest and most exciting communities. And with Green Square still only at the beginning stages of its renewal, it is exciting to see what the future has to hold for this precinct.
Written by Eleanor Earl