Located on the edge of Sydney's Chinatown, Darling Square is part of the NSW Government's $3.4 billion-dollar redevelopment of Darling Harbour.
Lendlease laid out its masterplan for Darling Square long before Green Building Council of Australia launched Green Star Communities. Nonetheless in 2016 it achieved a 6 Star Green Star Communities rating – representing world leadership in sustainable community design.
Since then, Lendlease has been awarded Green Star ratings for five buildings in the precinct, in addition to sustainability credentials on the precinct's International Convention Centre and Sofitel Sydney Darling Harbour.
"The development of the Darling Square precinct has always been about creating a place for a thriving community to evolve," says Neil Arckless, Lendlease Development's Executive Development Director.
"Mixing Childcare, a City of Sydney library together with cafés and restaurants, the Exchange building provides a democratic space for the community to call their own in the heart of the precinct."
"We didn't have a Green Star Communities rating in mind when we started the masterplanning process," adds Jo-Ann Gamble, Lendlease Building's Regional Sustainability Manager for NSWACT.
"But Green Star rewards good design, planning and construction practices, as well as being a driver for higher standards of sustainability. A Green Star Communities rating was validation of our vision for the project."
Lendlease Darling Square fast facts:
Darling Square brings together the International Convention Centre Sydney, 1,500 residential units, 26,000 sqm of commercial office space, 12,000 sqm of retail, community and leisure space, 1,300 bed student accommodation and a 590-room luxury hotel, the Sofitel.
Darling Square achieved a 6 Star Green Star Communities rating in 2016, and five of the buildings have achieved Green Star ratings for design and construction.
In 2020, Lendlease committed to market leading carbon targets to keep global warming to under 1.5°C and to deliver $250 million of social value by 2025.
More bird's nest than building
Darling Square bristles with green buildings, including the Sofitel, the International Convention Centre Sydney, Commonwealth Bank's 6 Star office and several residential buildings.
But it is The Exchange, a six-storey public building wrapped in 20 kilometres of curved timber, that turns heads with its innovative sustainable design.
Taking prime position at the centre of Darling Square, The Exchange is a spiralling, light-filled space designed by world-renowned Japanese architecture firm, Kengo Kuma & Associates.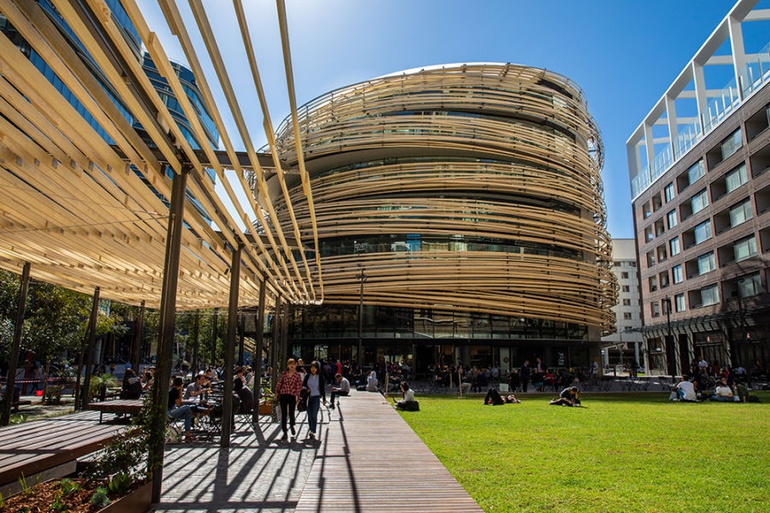 Looking more like a beehive or bird's nest than a typical public building, The Exchange was designed as a "hive of business activity and a focal point," says architect Kengo Kuma.
The striking timber wrap façade was designed digitally in 3D, and then prefabricated offsite before being installed, Jo-Ann Gamble explains.
The Accoya timber, an engineered wood known for its durability, was sourced from fast growing, abundant forests certified by the Forest Stewardship Council.
The project takes an innovative approach to design, construction and its stewardship of materials. All the timber has an environmental product declaration, for instance, and this EPD confirms the timber's low-carbon impact over its lifetime.
The exterior of The Exchange is breath-taking, and the interior does not disappoint. The timber ribbons on the façade filter the natural light and provide a soft texture to the interior space.
Two floors are dedicated to the City of Sydney's library – a dynamic learning hub that is much more than a depository for books. Instead, it is an ideas lab with a 200 sqm makers' workshop where people can learn new skills in digital design, 3D printing or robotics, test their own ideas or take their first steps towards a new business.
Lendlease also understands that laying the last brick doesn't signal the end of a development project. Building a thriving, resilient and diverse community requires a long-term view, which is why Lendlease established Bright. This business hub connects local entrepreneurs, promotes local business and shares community-generated content.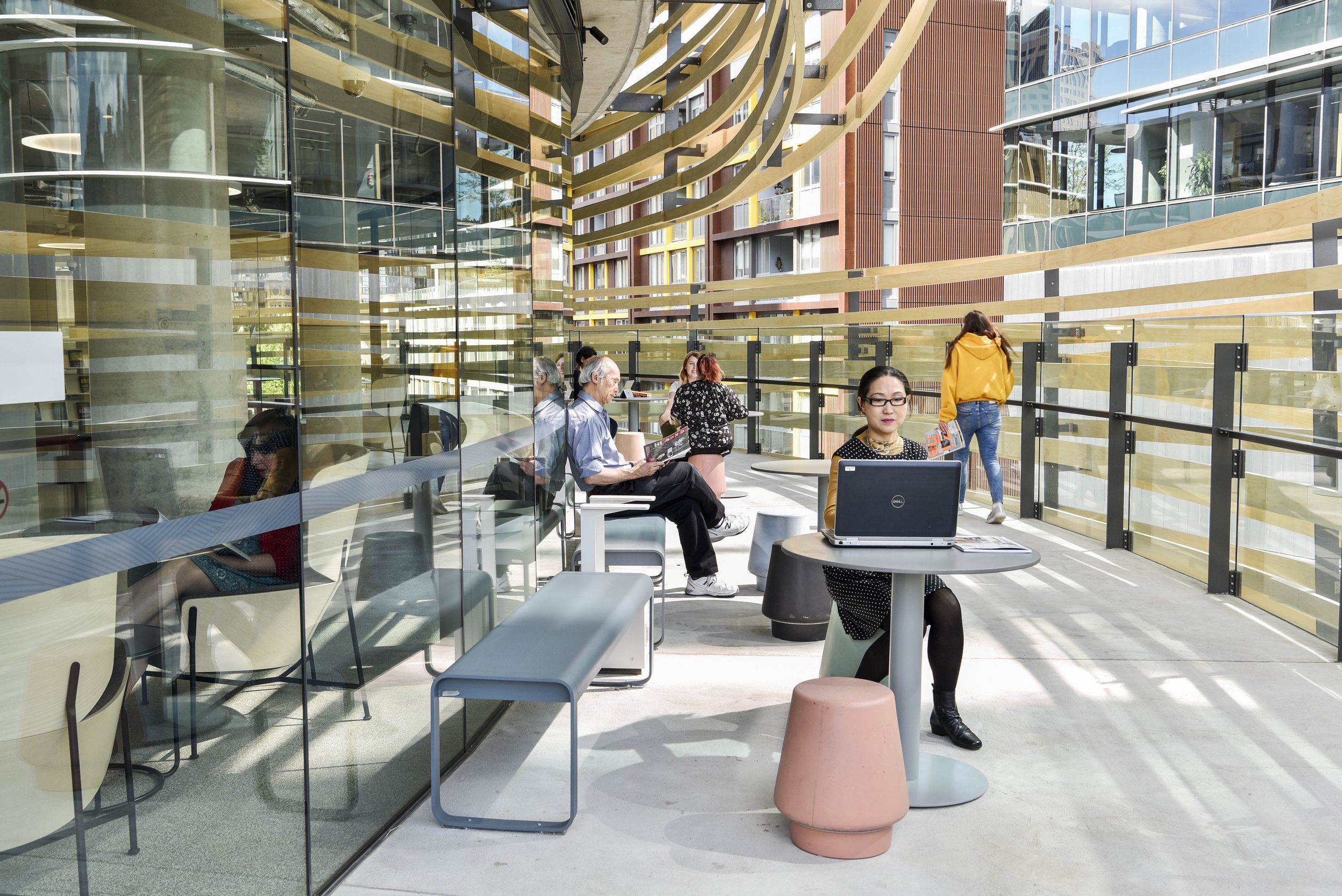 Places for all people
Green Star Communities rewards design that creates diverse, inclusive and healthy places for people – and Darling Square delivers.
One of Sydney's most walkable and connected places, Darling Square promotes healthy and active living. The precinct includes a pedestrian-focused network of city streets, laneways and a 20-metre-wide pedestrian boulevard bisecting the ground plane. Wandering through the precinct on foot is a pleasure, and there is plenty of space and amenity for cyclists.
At the centre of the precinct sits the public square, designed to be flexible enough for event and community use, while maintaining a human-scale for day-to-day use.
The carefully-considered public realm, designed by Aspect Studios, creates places for everyone – whether that's thousands of delegates gathering for an international conference, a family enjoying a weekend in the city or a single resident watching the world go by.
Retailers rise to the sustainability challenge
When Darling Square was still a design on a drawing board, Lendlease set a target to reduce tenant energy consumption and embodied carbon in fitouts by 20% – targets that were ambitious at the time.
One of the best ways to reduce embodied carbon in fitouts is to reduce the rate at which they need to be replaced. At Darling Square, Lendlease designed retail pods to be easily reimagined by new tenants, reducing the need for removal, replacement or even recycling.
Lendlease's team also developed a green guide to tenant fitouts that helps the 60-plus tenants make smart, sustainable choices. Tenants in the Maker's Dozen market hall and in the nearby Steam Mill Lane are among Sydney's most sustainable small businesses. All tenants meet Lendlease's standard for 100% compostable packaging and recycle their waste across five different waste streams.
We see Green Star as the benchmark of leadership in sustainability in the built environment. Green Star is a valuable guide for our design and delivery, but it's also a driver of change.
Jo-Ann Gamble, Regional Sustainability Manager NSW/ACT, Lendlease Building
Secrets to sustainable success
Lendlease has been a pacesetter in sustainable building for well over a decade. This company-wide commitment to sustainability was championed by two visionary leaders, Rob Deck and Neil Arckless, who embraced Green Star as part of their vision for the project.
At Darling Square, sustainability is not an add on – it was always part of the vision for the project. From the onset, Lendlease was determined to set new benchmarks for placemaking and city-shaping – and sustainability was central to this.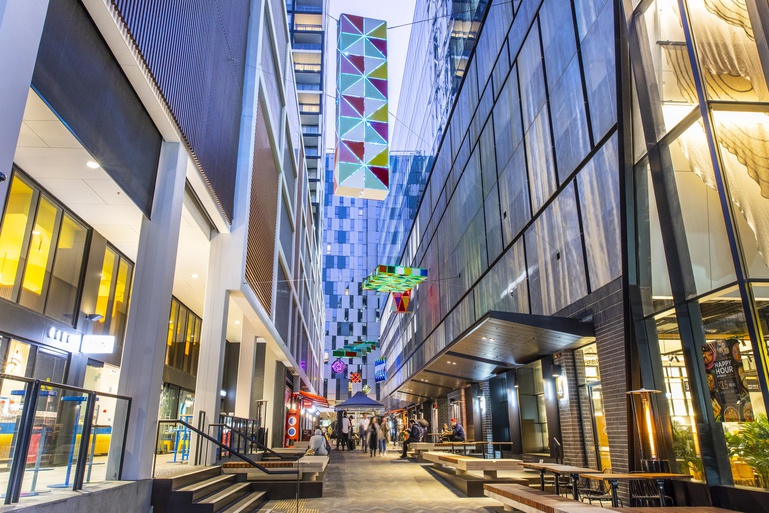 Neil Arckless attributes Darling Square's sustainability success to collaborative partnerships and old-fashioned hard work.

"Achieving a 5 Star Green Star rating for a mixed use community building is above and beyond what we had hoped. This could not have been achieved without the hard work of the team on the project and the many partners involved in the creation of Darling Square," he concludes.

Green Building Day showcases the built environment's leaders in sustainability and this year we're excited hear more from Lendlease at our Green Building Day in-person events! Beginning on May 27 we're looking forward to seeing you at Perth, Brisbane, Melbourne or Sydney. Get ready for a day of networking, sharing knowledge and inspiration. Register today.