The Commonwealth Bank of Australia (CBA) has demonstrated its commitment to sustainability at a customer-facing level and beyond, with the Bank achieving the highest number of Green Star certifications for a non-property organisation.
With 30 individual bank branches now Green Star certified and more to come, CBA continues to prioritise sustainable and responsible business practices – from financial products to physical branches.
What is perhaps most impressive is that these branches have all been certified within a four-year period, with the first branch at 200 George Street, Sydney, only awarded its 6 Star Green Star certification in 2016. This rapid certification of branches was made possible by the Green Star Volume Rating approach. Volume rating allows an organisation to certify a building design and replicate elements of that design across other projects.

In the case of CBA, it has created a standard design specifically for branches and replicated that design throughout the country. Where the certification of multiple projects is required, a 'standard design' or volume certification approach has many benefits, not least the reduction in cost and time that come from embracing common design, processes and materials that comply with best practice benchmarks.
"We were the first Australian financial institution to achieve a 5 Star Green Star certification for our retail design standards, and we are thrilled that 30 of our branches have now achieved Green Star certification," said Jennifer Saiz, CBA Executive General Manager, Group Property and Security.
As branches can vary so significantly in size and environment depending on whether they are free standing or within larger shopping complexes, CBA focused its efforts on standardising fit-outs. This meant specifically aiming for a 5 Star Green Star – Interiors v1.1 rating across all branches.
With environmental consciousness at the core of the fitout, CBA has decked branches out with some of the most environmentally sustainable products available, focusing in particular on products with transparent supply chains and zero wastage methodologies. This is exemplified in the use of closed loop carpets in each branch, a product that minimises its environmental impact all the way through to end-of-life, by opting for a recovery and recycling approach over landfill.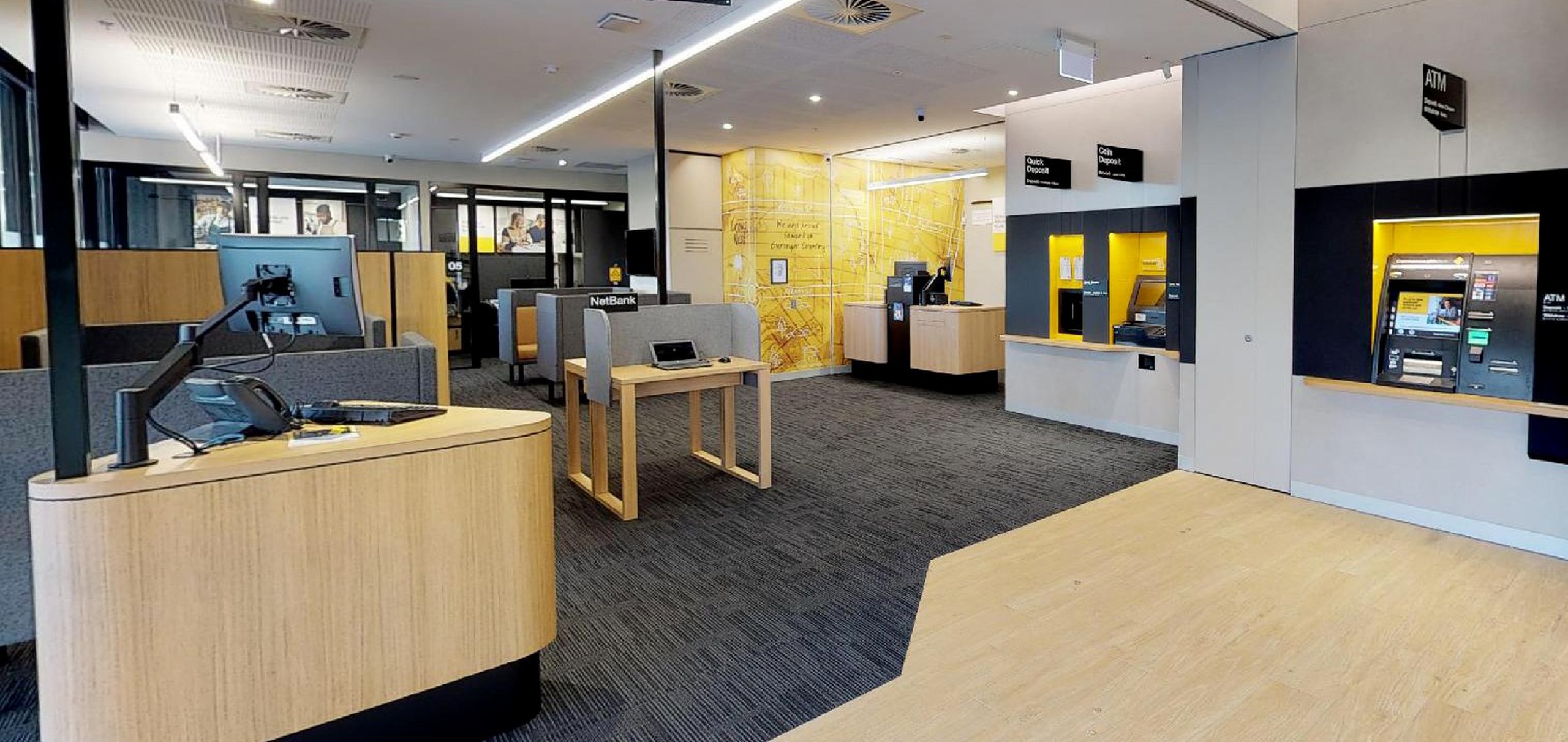 Achieving 30 branch certifications is by no means a small feat and speaks to the Bank's long-term dedication to Green Star and sustainability more broadly.
CBA is also dedicated to providing sustainable workplaces for their head office staff, demonstrated by Commonwealth Bank campuses in both Darling Harbour and South Eveleigh, achieving 6 Star Green Star Design, As Built and Interiors ratings.
"Commonwealth Bank was one of the first users of Green Star and one of the early adopters of our volume certification program," says GBCA's CEO Davina Rooney.
The leadership provided by the trusted Australian brand is paving "the way for other financial institutions…industrial facilities, retail stores and restaurants to [pursue] and achieve volume Green Star certifications across a number of projects," says Rooney.
Pursuing Green Star ratings is just one of many sustainability initiatives actioned by the Bank with other initiatives ranging from installing solar panels on the rooftops of almost 50 branches and providing the public with access to monitor their performance at http://cbasolarpower.com.au/, to specifically investing in projects that will help the gradual transition to a low carbon economy.
But CBA is doing more than setting a high standard for itself. With the announcement of a sustainability-linked loan for Wesfarmers, the Bank is also providing the means for other Australian businesses to change their own practices. With actions such as this, it is no surprise CBA is acknowledged as a leader in building sustainability.

A big congratulations on 30 certifications from all of us here at GBCA!