Australia's first all-electric aquatic centre is making waves with a sophisticated energy solution and efficient building envelope that will achieve net zero emissions in operation and pave the way for other councils committed to climate action.
Generally, aquatic centres consume more energy and emit more greenhouse gases than any other facility managed by Australian councils.
Water heaters, often powered by natural gas, run around the clock to maintain stable temperatures, while energy-intensive electric pumps keep water clean. Regulating air temperatures can also be challenging in damp, humid environments.
But the new $60 million Brimbank Aquatic and Wellness Centre, located in the west Melbourne suburb of Keilor Downs, presents a carbon neutral, renewable energy alternative.
Fast facts:
The $60-million-plus facility features a 50-metre 10-lane swimming pool, two massive water slides, water play unit and splash pad, Learn to Swim and warm water pools, and adjoining spas, sauna and steam room.
A wellness centre and community program room are complemented by preventative health and social support services, delivered by co-located and integrated partners under the one roof.
The 1,200 sqm state-of-the-art centre also includes group fitness studios, a 24-hour gym, a café and crèche.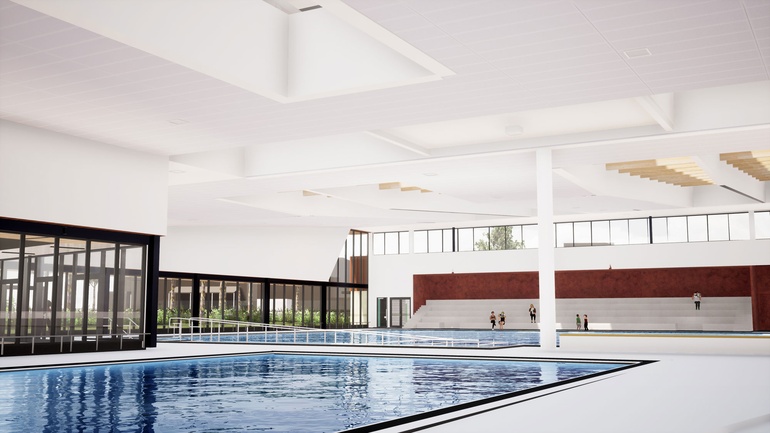 Sustainability goes swimmingly
Initially costed at $6 million, the all-electric component of the aquatic centre wasn't always on the cards. But Brimbank City Council's Major Projects Manager Trent Prince and the Environment team refused to give up on the goal.
"We wanted to make a difference in our building and in our community. But we also wanted to show other councils, and the development industry, that if we can do it, they can do it too."
In 2021, Brimbank Council secured $1.53 million in funding through the Australian Renewable Energy Agency which allowed the consultancy team to pursue an integrated renewable energy system for the centre.
Business-as-usual would have been a gas boiler heating system, central chiller and additional air-conditioning units for cooling.
Instead, the Brimbank Aquatic and Wellness Centre relies on an all-electric heat-pump system for heating and cooling.
When the 500-kilowatt rooftop solar panels are generating power, this powers the heat pump system to heat and cool the centre. An 88,000 litre hot water storage system acts as a big 'thermal battery'.
Any additional electricity needed is purchased through a 100% renewable energy power purchase agreement.
These solutions, taken together, achieve a zero emissions outcome for the aquatic centre. A laser-focus on innovation and investigation halved the costs of the all-electric component, and Brimbank City Council has shared the lessons learnt as it explored the heat pump and thermal energy storage options. "Going all-electric cost us around $2.3 million – nowhere near the initial $6 million we estimated."
My main message is to maintain an open mind. The technology is moving so fast, we could halve the cost of the all-electric component. And the costs just keep coming down.
Trent Prince, Manager Major Projects, Brimbank City Council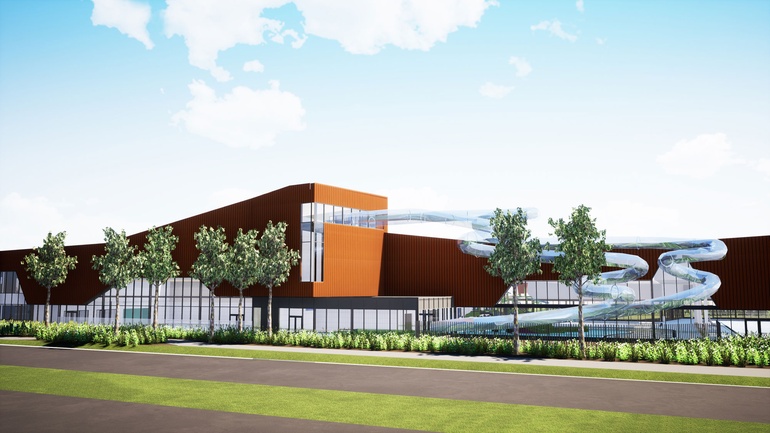 Green machine
Leaders forge an unfamiliar trail, but Trent says the secret to success was collective commitment towards a common goal.
"We specifically wrote the contract so everyone in the project team had ownership. By going down the design and construct route, the builders and consultants were as committed to solving the challenge of 100% electric as we were," he explains.
"Our builder ADCO now has a proven delivery method for 100% electric aquatic centres and can take that intellectual property to other projects."
The project team also has the valuable Green Star "tick of approval" as proof that the project exceeds best practice benchmarks.
Brimbank City Council committed to a 5 Star Green Star rating, but is now on track to achieve an Australian-first 6 Star Green Star As-Built rating for an indoor aquatic centre. "The all-electric component took our Green Star points through the roof," Trent adds.
Brimbank Council's Climate Emergency Plan 2020-2025 outlines a target of net zero emissions for Council operations by 2030. To meet this target, running council facilities with the help of natural gas and fossil-fuel sourced power is no longer tenable, Trent notes.
"Brimbank Aquatic and Wellness Centre is proof that climate emergency plans can be actioned. We've proven all-electric aquatic centres aren't pie in the sky. They can be done. We are extremely proud of what we've achieved."